Men in the News
28th September 1951
Page 30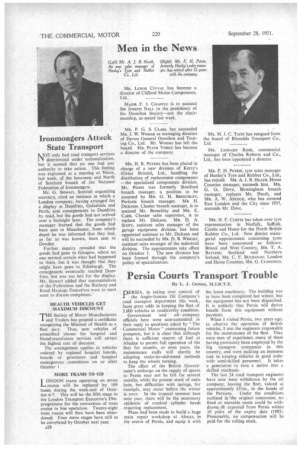 Page 30, 28th September 1951 —
Men in the News
Close
MR. LEWIS Ovvair. has become a
director of Clifford Motor Components, Ltd.
MAJOR F. J. CHAPPLE is to succeed SIR JOSEPH Nat'. in the presidency of the Omnibus Society—not the chairmanship, as stated last week.
Ma. P. G. S. CLARK has succeeded MR. J. W. Womaa as managing director of Devon General Omnibus and Touring Co., Ltd. Mr. Womar has left the board. MR. PETER YORKE has become a director of the company.
MR, H. R. PETERS has been placed in charge of a new division of Kerry's (Great Britain), Ltd., handling the distribution of replacement components —the specialized components division. Mr. Peters was formerly Stratford branch manager, a position to be assumed by MR. G. H. BRENCHLEY, Perivale branch manager. MR H. DICKSON, Chester branch manager, is to succeed Mr.. Brenchley and MR. E.. CARR, Chester sales supervisor, is to replace Mr. Dickson. MR. D. A. SCOTT, assistant sales manager of the garage equipment division, has been appointed assistant to Mr. Dickson and will be succeeded by MR. D. B. Wtuoirr, assistant sales manager of the industrial division. The appointments take effect on October 1. The new division has been formed through the company's policy of specialization. MR. M. J. C. TA1TE has resigned from the board of Rhondda Transport Co., Ltd.
MR. LEONARD ROSE, commercial manager of Charles Roberts and Co., Ltd., has been appointed a director. .
MR, F. H. Purnw., tyre sales manager of Henley's Tyre and Rubber Co., Ltd., has retired. MR. A. J. B. HEATH, Home Counties manager, succeeds him. MR. G. G. DOVE, Birmingham branch. manager, replaces Mr. Heath, and MR. A. W. ADCOCK, who has covered East London and the City since 1937, succeeds Mr Dove, MR. H. F. CURTIS has taken over tyre representation in Norfolk, Suffolk, Cambs and Hunts for the North British Rubber Co., Lid. New district managerial appointments concerning tyres have been announced as follows: Bristol and West Country, MR. T. A. Bavviss; Scotland and Northern Ireland, MR. C. F. BUCHANAN; London and Home Counties, MR. G. CUMMINGS.
Tags
People
:
LEONARD ROSE
,
J. W. Womaa
,
D. B. Wtuoirr
,
G. G. DOVE
,
D. A. SCOTT
,
C. F. BUCHANAN
,
J. B. HEATH
,
A. W. ADCOCK
,
PETER YORKE
,
G. CUMMINGS
,
T. A. Bavviss
,
H. DICKSON
,
G. H. BRENCHLEY
,
Womar
,
H. F. CURTIS