Ironmongers Attack State Transport
28th September 1951
Page 30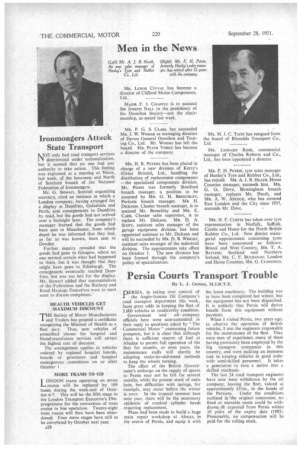 Page 30, 28th September 1951 —
Ironmongers Attack State Transport
Close
NOT only had road transport services deteriorated under nationalization, but it seemed that no one had any authority to take action. This feeling was expressed at a meeting at Nairn, last week, of the Inverness and North of Scotland branch of the National Federation of Ironmongers.
Mr. G. Stewart, Scottish organizing secretary, cited an instance in which a London company, having arranged for a display at Dumfries, Galashiels and Perth, sent consignments to Dumfries by road, but the goods had not arrived over a fortnight later. The company's manager learned that the goods had been sent to Manchester, from which depot he was informed that they had, as far as was known, been sent to Dundee.
Further inquiry revealed that the goods had gone to Glasgow, where no one seemed certain what had happened to them, but it was thought that they might have gone to Edinburgh. The consignment eventually reached Dumfries, but was too late for the display. Mr. Stewart added that representatives of the -Federation and the Railway and Road Haulage Executives were to meet . soon to discuss complaints.
HEALTH VEHICLES GET ,MAXIMUM DISCOUNT
THE Society of Motor Manufacturers and Traders has granted a certificate -recognizing the Minister of Health as_a fleet user. Thus, new vehicles of prescribed classes for hospital and blood-transfusion services will attract the.highest rate of discount.
The arrangement applies to vehicles ordered by regional hospital boards, boards of governors and hospital management committees on or after October 1 MORE TRAMS TO GO
LONDON trams operating on seven routes will be replaced by 109 buses during the week-end of October 6-7. This will be the fifth stage in the London Transport Executive's £.9m. programme for the conversion of tram routes to bus operation. Twenty-eight tram routes will then have been abandoned. Four more stages have still to be completed by October next year.
A28