9,000 Lorries for Coal Haulage ?
28th September 1951
Page 29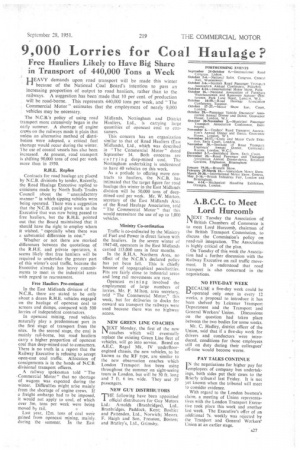 Page 29, 28th September 1951 —
9,000 Lorries for Coal Haulage ?
Close
Free Hauliers Likely to Have Big Share in Transport of 440,000 Tons a Week HEAVY demands upon road transport will be made this winter because of the National Coal Board's intention to pass an increasing proportion of output to road hauliers, rather than to the railways. A suggestion has been'made that 10 per cent. of production will be road-borne. This represents 440,000 tons per week, and "The Commercial Motor" estimates that the employment of nearly 9,000 vehicles may be necessary.
The N.C.B.'s policy of using road transport more extensively began in the early summer. A shortage of engine crews on the railways made it plain that unless an alternative method of distribution were adopted, a critical filet shortage would occur during the winter. The use of coastal vessels has also been increased. At present, road transport is shifting 90,000 tons of coal per week more than in 1950.
Replies
Contracts for road haulage are placed by N.C.B. divisions by tender, Recently, the Road Haulage Executive replied to criticisms made by North Staffs Trades Council about the "unsatisfactory manner" in which tipping vehicles were being operated. There was a suggestion that the N.C.B. could give work to the Executive that was now being passed to free hauliers, but the R.H.E. pointed out that the Board maintained that it should have the right to employ whom it wished, "especially when there was a substantial difference in cost."
Whether or not there are marked differences between the quotations of the R.H.E. and private operators, it seems likely that free hauliers will be required to undertake the greater part of this winter's coal traffic, because the Executive already has heavy commitments to meet in the industrial areas with regard to rearmament.
Free Hauliers Pre-eminent
In the East Midlands division of the N.C.B., there are stated to be only about a dozen R.H.E. vehicles engaged 'On the haulage of opencast coal to screens and dumps, compared with 500 lorries of independent contractors.
In opencast mining, road vehicles naturally play a predominant part in the first stage of transport from the sites. In the second stage, the coal is mainly rail-borne, but road hauliers carry a higher proportion of opencast coal than deep-mined coal to consumers. There is no truth in a report that the Railway Executive is refusing to accept open-cast coal traffic. Allocation of consignments is in the hands of N.C.B. divisional transport officers, A railway spokesman told "The • Commercial Motor" that no shortage of wagons was expected during the winter. Difficulties might arise mainly from the shortage of 'engine crews. If a freight embargo had to be imposed, it would not apply to coal, of which over 3m. tons per. Week were being
moved by rail. k Last year, 12m. tons of coal were gained from opencast 'mining, mainly during the • summer. in the East
Midlands, Nottingham and District Hauliers, Ltd., is carrying large quantities of opencast coal to consumers.
This ,concern has an organization similar to that of Road Hauliers (East Midlands), Ltd., which was described in"The Commercial Motor" dated September 14. Both concerns are carrying deep-mined coal. The Nottingham undertaking is understood to have 40 vehicles on this work.
As a prelude to offering more contracts to hauliers, the N.C.B. has intimated that the target figure for road haulage this winter in the East Midlands division will be 50,000 tons of deepmined coal per week. Mr. W. Morton, secretary of the East Midlands Area of the Road Haulage Association, told "The Commercial Motor" that this would necessitate the use of up to 1,000 vehicles..
Ministry Co-ordination Traffic is co-ordinated by the Ministry of Fuel and Power in direct liaison with the hauliers. In the severe winter of 1947-48, operators in the East Midlands carried 115,000 tons in four months.
In the R.H.A. Northern Area, no effect of the N.C.B.'s declared policy has yet been felt. This is chiefly because of topographical peculiarities. Pits are fairly close to industrial areas and long rail movements are rare.
Opencast mining involved the employment of large numbers of lorries, Mr. F. Milton, area secretary, told "The Commercial Motor," this week, but for deliveries to docks for onward sea transport the railways were used because there was no highway access.
NEW GREEN LINE COACHES
NEXT Monday, the first of the new coaches which will eventually replace the existing Green Line fleet of vehicles, will go into service. Based on A.E.C. Regal Mk. IV underfloorengined chassis, the new vehicles, to be known as the RF type, are similar to the new observation coaches which London Transport has been using throughout the summer on sight-seeing tours in London. but will be 30 ft. long and 7 ft. 6 ins. wide. They seat 39 passengers.
NEW GUY DISTRIBUTORS THE following have been appointed official distributors for Guy Motors Ltd.: Arnolds (Branbridges), Ltd., Branbridges. Paddock, Kent; Boshier and Pattenden, Ltd., Norwich; Messrs. F. Haigh and Son, Fresston, Boston; and Bratley's, Ltd., Grimsby.