Ministry Gives Elm. Order to Leyland
28th September 1951
Page 28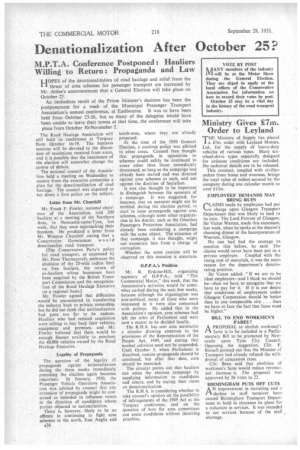 Page 28, 28th September 1951 —
Ministry Gives Elm. Order to Leyland
Close
THE Ministry of Supply has placed a £7m. order with Leyland Motors, Ltd., for the supply of heavy-duty vehicles of various types. Many sixwheel-drive types especially designed for arduous conditions are included. No technical details are to be released.
This contract, coupled with civilian orders from home and overseas, brings the total value of orders secured by the company during one calendar month to over £13m.
EMPLOYEES' DEMANDS MAY BRING RUIN
rLA1MS Made by employees had put
charge upon Glasgow Transport Department that was likely to lead to its ruin. The Lord Provost of Glasgow, Sir Victor Warren, made this statement, last week, when he spoke at the deacon's choosing dinner at the Incorporation of Weavers, Glasgow.
No one had bad the courage to mention this before, he said. The claims would never have been put to a private employer. Coupled with the rising cost of materials, it was the main reason for the department's deteriorating position.
Sir Victor added: "if we are to be ideal employers—and I think we should be—then we have to recognize that we have to pay for it. If it is our desire that conditions of employment under Glasgow Corporation should be better than in any comparable city . . . then we have to face the fact that fares must be higher."
BILL TO END WORKMEN'S FARES?
A PROPOSAL to abolish workmen's f-1 fares is to be included in a Parliamentary Bill to be promoted by Newcastle upon Tyne City Council. Opposing the suggestion, ale F. Russell pointed out that the Minister of Transport had already refused the Nvithdrawal of concession rates.
Cllr. Benn said that abolition of workmen's fares would reduce revenue, not increase it. The proposal was approved by 26 votes to 22.
BIRMINGHAM PUTS OFF CUTS
AN improvement in recruiting and a decline in staff turnover have caused Birmingham Transport Department to hold in abeyance its plans for a reduction in services. It was intended to cut services because of the staff I shortage.