One Hears
28th September 1951
Page 27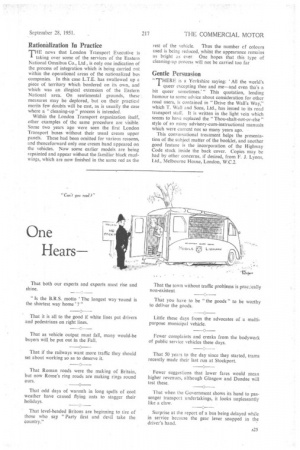 Page 27, 28th September 1951 —
One Hears
Close
That both our experts and exports must rise and shine.
"Is the B.R.S. motto The longest way -round is the shortest way home ' ?"
That it is all to the good if white lines put drivers and pedestrians on right lines.
That as vehicle output must fall, many would-be buyers will be put out in the Fall.
That if the railways want more traffic they should set about working so as to deserve it.
That Roman roads were the making of Britain, but now Rome's ring roads are making rings round ours.
That odd days of warmth in long spells of cool weather have caused flying ants to stagger their holidays.
That level-headed Britons are beginning to tire of those who say "Party first and devil take the country." That the town without traffic problems is prac,ically non-existent That you have to be "the goods" to be worthy to deliver the goods.
Little these days from the advocates of a multipurpose municipal vehicle.
Fewer complaints and creaks from the bodywork of public service vehicles these days.
That 50 years to the day since they started, trams recently made their last run at Stockport.
Fewer suggestions that lower fares would mean higher revenues, although Glasgow and Dundee will test these.
That when the Government shows its hand to passenger transport undertakings, it looks unpleasantly like a claw.
Surprise at the report of a bus being .delayed while in service because the gear lever snapped in the driver's hand.