Passing Comments
28th September 1951
Page 26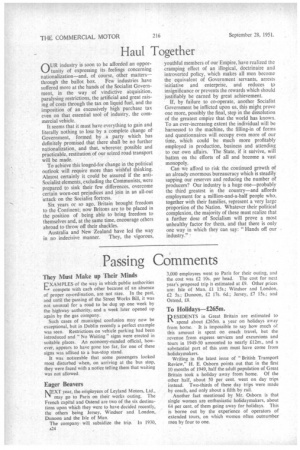 Page 27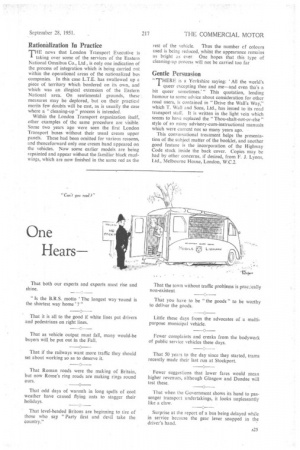 Page 26, 28th September 1951 —
Passing Comments
Close
They Must Make up Their Minds
EXAMPLES of the way in which public authorities compete with each other because of an absence of proper co-ordination, are not rare. In the past, and until the passing of the Street Works Bill, it was not unusual for a road to be dug up one week by the highway authority, and a week later opened up again by the gas company.
Such cases of municipal confusion may now be exceptional, but in Dublin recently a perfect example was seen. Restrictions on vehicle parking had been introduced and "No Waiting" signs were erected in suitable places. An economy-minded official, however, appears to have gone too far, for one of these signs was affixed to a bus-stop stand.
It was noticeable that some passengers looked most disturbed when, on arriving at the bus stop, they were faced with a notice telling them that waiting was not allowed.
Eager Beavers
NEXT year, the employees of Leyland Motors, Ltd., may go to Paris on their works outing. The French capital and Ostend are two of the six destinations upon which they were to have decided recently, the others being Jersey, Windsor and London,. Dunoon and the Isle of Man.
The company will subsidize the trip. In 1930, A24 3,000 employees went to Paris for their outing, and the cost was £2 10s. per head. The cost for next year's proposed trip is estimated at £9. Other prices are: Isle of Man, £1 15s.; Windsor and London, £2 5$.: Dunoon, £2 17s. 6d.; Jersey, £7 15s.; and Ostend, £8.
To Ho1idays-065m.
RESIDENTS in Great Britain' are estimated to spend about £265m. a year on holidays away from home. It is impossible to say how much of this amount is spent on coach travel, but the revenue from express services and excursions and tours in 1949-50 amounted to nearly £12m., and a substantial part of this sum must have come from holidaymakers.
Writing in the latest issue of " British Transport Review," H. E. Osborn points out that in the first 10 months of 1949, half the adult population of Great Britain took a holiday away from home. Of the other half, about 50 per cent, went on day trips instead. Two-thirds of these day trips were made by coach, and only about a fifth by rail.
Another fact mentioned by Mr. Osborn is that single women are enthusiastic holidaymakers, about 64 per cent, of them going away for holidays. This is borne out by the experience of operators of extended tours, on which women often outnumber men by four to one.
Rationalization In Practice
THE news that London Transport Executive is A taking over some of the services of the Eastern National Omnibus Co., Ltd , is only one indication of the process of integration which is being carried out within the operational areas of the nationalized bus companies. In this case L.T.E. has swallowed up a piece of territory which bordered on its own, and which was an illogical extension of the Eastern National area. On sentimental grounds, these measures may be deplored, but on their practical merits few doubts will be cast, as is usually the case where a " cleaning-up " process is intended.
Within the London Transport organization itself, other examples of the same procedure are visible. Some two years ago were seen the first London Transport buses. without their usual cream upper panels. These had been omitted for various reasons, and thenceforward only one cream band appeared on the vehicles. Now some earlier models are being repainted and appear without the familiar black mudwings, which are now finished in the same red as the rest of the vehicle. Thus the number of colours used is being reduced, whilst the appearance remains as bright as ever. One hopes that this type of cleaning-up process will not be carried too far
Gentle Persuasion
" THERE is a Yorkshire saying: 'All the world's
queer excepting thee and me—and even tha's a bit queer sometimes.'" This quotation, lending humour to some advice about consideration for other road users, is contained in "Drive the Wall's Way," which T. Wall and Sons, Ltd., has issued to its road transport staff, It is written in the light vein which seems to have replaced the " Thou-shalt-not-or-else " style of so many advisory-cum-instructional manuals which were current not so many years ago.
This conversational treatment helps the presentation of the subject matter of the booklet, and another good feature is the incorporation of the Highway Code stuck inside the back cover. Copies may be had by other concerns, if desired, from F. J. Lyons, Ltd., Melbourne House, London, W.C.2.