Haul Together
28th September 1951
Page 26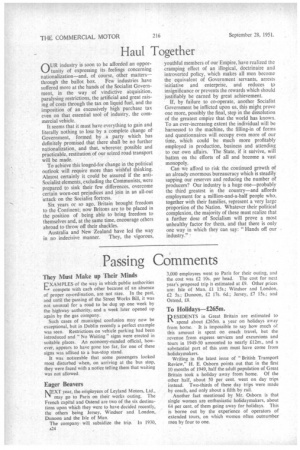 Page 26, 28th September 1951 —
Haul Together
Close
OUR industry is soon to be afforded an opportunity of expressing its feelings concerning nationalization—and, of course, other matters— through the ballot box. Few industries have suffered more at the hands of the Socialist Government, in the way of vindictive atquisition, paralysing restrictions, the artificial and great raising of costs through the tax on liquid fuel, and the imposition of an excessively high purchase tax even on that essential tool of industry, the commercial vehicle.
It seems that it must have everything to gain and literally nothing to lose by a complete change of Government, formed by a party which has definitely promised that there shall be no further nationalization, and that, wherever possible and practicable, restitution of our seized road transport will be made.
To achieve this longed-for change in the political outlook will require more than wishful thinking. Almost certainly it could be assured if the antiSocialist elements, excluding the Communists, were prepared to sink their few differences, overcome certain worn-out prejudices and join in an all-out attack on the Socialist fortress.
Six years or so ago. Britain brought freedom to the Continent; now Britons are to be placed in the position of being able to bring freedom to themselves and, at the same time, encourage others abroad to throw off their shackles.
Australia and New Zealand have led the way in no indecisive manner. They, the vigorous, youthful members of our Empire, have realized the cramping effect of an illogical, doctrinaire and introverted policy, which makes all men become the equivalent of Government servants, arrests initiative and enterprise, and reduces to insignificance or prevents the rewards which should justifiably be earned by great achievement.
If, by failure to co-operate, another Socialist Government be inflicted upon us, this might prove one more, possibly the final, step in the dissolution of the greatest empire that the world has known. To an ever-increasing extent the individual will be harnessed to the machine, the filling-in of forms and questionnaires will occupy even more of our time, which could be much more profitably employed in production, business and attending to our own affairs. The State, if it survive, will batten on the efforts of all and become a vast monopoly.
Can we afford to risk the continued growth of an already enormous bureaucracy which is steadily sapping our reserves and reducing the number of producers? Our industry is a huge one—probably the third greatest in the country—and affords employment for a million-and-a-half people who, together with their families, represent a very large proportion of the Nation. Whatever their political complexion, the majority of these must realize that a further dose of Socialism will prove a most unhealthy factor for them, and that there is only one way in which they can say: "Hands off our industry." '