Selling Our "Scrap" Abroad
28th September 1951
Page 25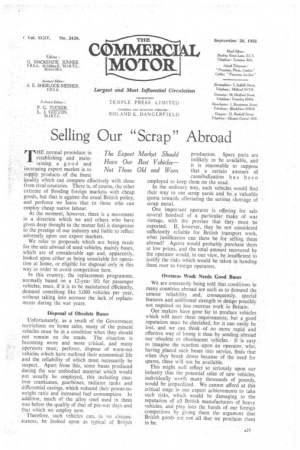 Page 25, 28th September 1951 —
Selling Our "Scrap" Abroad
Close
The Export Have Our Not Those
THE normal procedure in establishing and .•• a good and increasing export market is .to supply products of the finest quality which can compete. effectively with those from rival countries. There is, of course, the other extreme of flooding foreign markets with cheap goods, but that is against the usual British policy, and perforce we leave that to those who can employ cheap native labour.
At the moment, however, there is a movement in a direction which we and others who have given deep thought to the matter feel, is dangerous to the prestige of our industry and liable to reflect adversely upon our export markets.
We refer to proposals which are being made for the sale abroad of used vehicles, mainly buses, which are of considerable age and, apparently, looked upon either as being unsuitable for operation at. home, or eligible for disposal only in this way in order to avoid competition here.
In this country, the replacement programme, normally based on a U-year life for passenger vehicles, must, if it is to be maintained efficiently, demand something like 5,000 vehicles per year, without taking into account the lack of replacements during the war years.
Disposal of Obsolete Buses
Unfortunately, as a result of the Government restrictions on home sales, many of the present vehicles must be in a condition when they should not remain on the roads. The situation is becoming more and more critical, and many operators must, perforce, dispose of worn-out vehicles which have outlived their economical life and the reliability of which must necessarily be suspect. Apart from this, some buses produced during the war embodied material which would not usually be employed, this including castiron crankcases, gearboxes, radiator tanks and differential casings, which reduced their power-toweight ratio and increased fuel consumption. In addition, much of the alloy steel used in them was below the quality of that of pre-war days and that which we employ now. .
Therefore, such vehicles can, in no circumstances, be looked upon as typical of British production. Spare parts are unlikely to be available, and it is reasonable to suppose that a certain amount of cannibalization has been employed to keep them on the road.: In the ordinary way, such vehicles would find their way to our scrap yards and be ,a valuable quota towards alleviating the serious shortage of scrap metal.
One important operator is offering for sale several hundred of a particularmake of war vintage, with the proviso that they must be exported. If, however, they be not considered sufficiently reliable for British transport work, what justification can there be for selling them abroad? Agents would probably-purchase them at low prices, and the total amount recovered by the operator would, in our view, be insufficient to justify the risks which would be taken in handing them over to foreign operators.
Overseas Work Needs Good Buses
We are constantly being told that conditions in many countries abroad are such as to demand the utmost reliability and, consequently, special features and additional strength in design possibly not required on less onerous work in Britain.
Our makers have gone far to produce vehicles which will meet these requirements; but a good reputation must be cherished, for it can easily be lost, and we can think of no more rapid and effective way of losing it than by sending abroad our obsolete or obsolescent vehicles.It is easy to imagine the reaction upon an operator,' who', having placed such buses into seivic6, finds "that when they break down because of the need for spares, these will not be available.'
This might well reflect so seriously upon our industry that the potential sales of new vehicles, individually worth many thousands of pounds, would be Jeopardized. We cannot afford at this critical stage in our export achievements to take such risks, which would be damaging to .the reputation of all British manufacturers of heavy vehicles, and play into the hands of our foreign competitors by giving them the argument that British goods are not all that we proclaim them
to be.