Trailer to Turku
18th November 1949
Page 51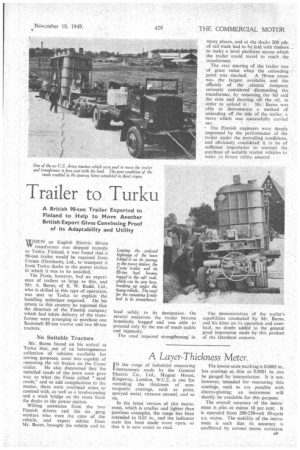 Page 51, 18th November 1949 —
Trailer to Turku
Close
WHEN an English Electric 80-ton VV transformer was shipped recently to Turku, Finland, it was found that a 90-ton trailer would be required from Cranes (Dereham), Ltd., to transport it from Turku docks to the power station in which it was to be installed.
The Finns, however, had no experience of trailers as large as this, and Mr. A. Burns, of E. W. Rudd, Ltd., who is skilled in this type of operation, was sent to Turku to explain the handling technique required. On his return to this country he reported that the directors of the Finnish company which had taken delivery of the transformer were arranging to purchase one Scammell 85-ton tractor and two 60-ton tractors.
No Suitable Tractors
Mr. Burns found on his arrival at Turku that, out of an heterogeneous collection of vehicles available for towing purposes, none was capable of operating the air brakes on the Crane trailer. He also discovered that the metalled roads of the town soon gave way to what the Finns called " sand roads," and to add complication to the matter, there were overhead wires to contend with, as well as a level-crossing and a weak bridge on the route from the docks to the power station.
Willing assistance from the two Finnish drivers and the six gang workers who were the crew of the vehicle, and expert advice from Mr. Burns, brought the vehicle and its
load safely to its destination. On several .occasions the trailer became hopelessly bogged and was able to proceed only by the use of much tackle and ingenuity.
The road required strengthening in
many places, and at the docks 200 yds. of rail track had to be laid with timbers to make a level platform across which the trailer could travel to reach the transformer.
The rear steering of the trailer was of great value when the unloading point was reached. A 50-ton crane was the largest available and the officials of the electric company seriously considered dismantling the transformer, by removing the lid and the core and drawing off the oil, in order to unload it. Mr. Burns was able to ' demonstrate a method of unloading off the side of the trailer, a move which was successfully carried Otit. • The Finnish engineers were deeply impressed by the performance of the trailer under the prevailing conditions, and obviously considered it to be of sufficient importance to warrant the purchase of suitable tractor vehicles to make its future utility assured., , The demonstration of the trailer's capabilities conducted by Mr. Burns, and his hints on its operation and overhaul, no doubt added to the general good impression made by this product of the Dereham concern.