A Layer-Thickness Meter.
18th November 1949
Page 51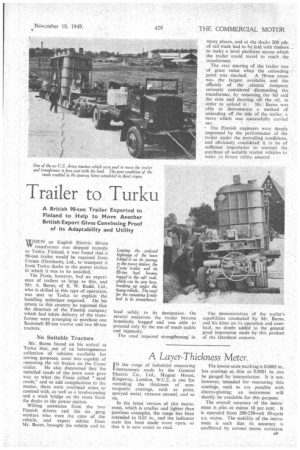 Page 51, 18th November 1949 —
A Layer-Thickness Meter.
Close
IN the range of industrial measuring instruments made by the General Electric Co., Ltd., Magnet House, Kingsway, London, W.C.2, is one for recording the thickness of non-. magnetic coatings, such as paint, sprayed metal, vitreous enamel, and so on.
In the latest version of this instrument, which is smaller and lighter than previous examples, the range has been extended to 0.03 in., and the indicator scale has been made more opens so that it is now easier to read. The lowest scale marking is 0.0005 in., but coatings as thin as 0.0001 in. can be gauged by interpolation. It is not, however, intended for measuring thin coatings, such as are possjble with electro-plating; an instrument will shortly be available for this purpose.
The overall accuracy of the instrument is Mils or minus 10 per cent. It is operated from 200-250-volt 50-cycle a.c. mains. The stability of the instrument is such that its accuracy is unaffected by normal mains variation,