Training Engineers from Scratch
18th November 1949
Page 50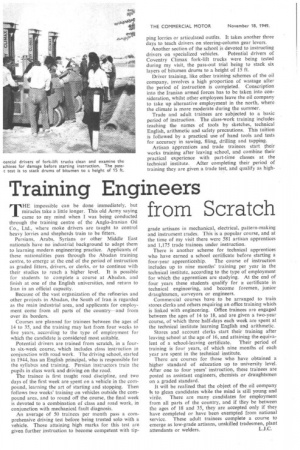 Page 50, 18th November 1949 —
Training Engineers from Scratch
Close
THE impossible can be done immediately, but miracles take a little longer. This old Army saying came to my mind when I was being conducted through the training centre of the Anglo-Iranian Oil Co., Ltd., where moke drivers are taught to control heavy lorries and shepherds train to be fitters.
Persians, Arabs, Syrians or other Middle East nationals have no industrial background to adapt them to learning modern engineering practice. Applicants of these nationalities pass through the Abadan training centre, to emerge at the end of the period of instruction as graded fitters, drivers, or clerks, or to continue with their studies to reach a higher level. It is possible for students to complete a course at Abadan, and finish at one of the English universities, and return to Iran in an official capacity.
Because of the vast organization of the refineries and other projects in Abadan, the South of Iran is regarded as the main industrial area, and applicants for employment come from all parts of the country—and from over its borders.
Courses are planned for trainees between the ages of 14 to 35, and the training may last from four weeks to five years, according to the type of employment for which the candidate is considered most suitable.
Potential drivers are trained from scratch, in a fourto six-week course, which includes class instruction in conjunction with road work. The driving school, started in 1944, has an English principal, who is responsible for the syllabus and training. Persian instructors train the pupils in class work and driving on the road.
The trainee is first taught road discipline, and two days of the first week are spent on a vehicle in the compound, learning the art of starting and stopping. Then follows two weeks' training on vehicles outside the compound area, and to round off the course, the final week is devoted to a combination of class and road work, in conjunction with mechanical fault diagnosis.
An average of 50 trainees per month pass a comprehensive driving test before being trusted solo with a vehicle. Those attaining high marks for this test are given further instruction to become competent with tip
grade artisans in mechanical, electrical, pattern-making and instrument trades. This is a popular course, and at the time of my visit there were 581 artisan apprentices and 1,175 trade trainees under instruction.
There is another scheme for technical apprentices who have earned a school certificate before starting a four-year apprenticeship. The course of instruction includes up to nine months' training per year in the technical institute, according to the type of employment for which the apprentices are studying. At the end of four years these students qualify for a certificate in technical engineering, and become foremen, junior draughtsmen, surveyors or engineers.
Commercial courses have to be arranged to train stores clerks and others requiring an office training which is linked with engineering. Office trainees are engaged between the ages of 14 to 18, and are given a two-year course, of which three half-days each week are spent at the technical institute learning English and arithmetic.
Stores and account clerks start their training after leaving school at the age of 16, and attaining the equiva lent of a school-leaving certificate. Their period of training is four years, of which nine months of each year are spent in the technical institute.
There are courses for those who have obtained a higher standard of education up to university level. After one to four years' instruction, these trainees are posted as assistant engineers, chemists or draughtsmen on a graded standard.
It will be realized that the object of the oil company Is to glean candidates while the mind is still young and virile. There are many candidates for employment from all parts of the country, and if they be between the ages of 18 and 35, they are accepted only if they have completed or have been exempted from national service. These adult trainees complete a course to emerge as low-grade artisans, unskilled tradesmen, plant attendants or welders. L.J.C.