Men in the News
18th November 1949
Page 34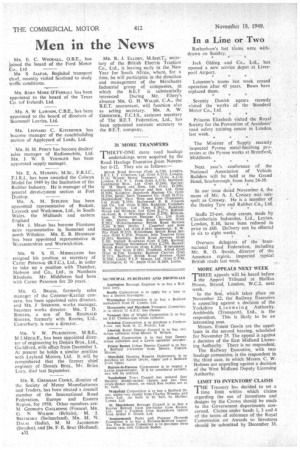 Page 34, 18th November 1949 —
Men in the News
Close
, MR. E. C. Woomale 0.B.E., has joined the board of the Ford Motor Co., Ltd.
MR S JAAFAR, Baghdad transport chief, recently visited Scotland to study traffic conditions.
MR. RORY MORE OPERRALL has been appointed to the board of the Texas Co (of Ireland), Ltd.
• MR. A. W LawsoN, C.B.E,, has been appointed to the hoard of directors of Scammell Lorries, Ltd.
MR. LEONARD C. KITCHENER has become manager of the coachbuilding section of Appleyard of Leeds, Ltd.
Ma. H. M. PERCY has become dealers' sales manager of Radiomobile, Ltd. MR. J. W. S. YOUNGER has been appointed supply manager.
-— MP. E. A. MURPHY, M.Sc., F.R.I.C., F.I.R.L. has been awarded the Colwyn Medal for 1940 by the Institution of the Rubber Industry. He is manager of the general development section at Fort Dunlop.
MR. A. M. STELFOX has been appointed representative of Beckett, Laycock and Watkinson, Ltd., in South Wales. the Midlands and eastern England -- MR J. MEAD has become Firestone sales representative in Somerset and north Wiltshire Me. E. B. HENSHAW has been appointed representative in Worcestershire and Warwickshire.
MR. Wi S. H. • MIDDLETON has resigned his position as secretary of Carter Paterson (41.T.C.), Ltd., in order to take up a position with Thatcher, Hobson and Co., Ltd., in Northern Rhodesia. Mr. Middleton had been with Carter Paterson for 20. years.
MR. G. BRAGG, formerly sales manager of the Commer-Karrier concern. has been appointed sales director, and MR. J SHERWIN, works manager, becomes works director. MR. T D. ROOTES, a son of SIR REGINALD Rooms, formerly with Rooks, Ltd., Canterbury. is now, a director.. • MR. V W. P1LKINGTON, M .B.E., M.I.MEcts.E., has been appointed director of engineering by Dennis Bros., Ltd., Guldford, with effect from December 1. At present he holds a Similar position with Leyland Motors, Ltd. It. will be remembered that the former chief engineer' of Dennis Bros., Mr. Brian Lucy, died last September, MR. R. GRESHAM COOKE, director of the Society of Motor Manufacturers and Traders, has been elected a council member of the International Road Federation, Europe and Eastern Region. for 1950. Other members are: M GEOROES GALLZENNE (France), MR. G. N WILSON' (Britain), M. J. Thurso-Ica (Switzerland), MR.. M. N. DALAI. (India), •M. M JacoassoN (Sweden), and DR. F. E. SPAT (Holland).
A32 MR. R. J. ELLERY, M.111St.T., secretary of the British Electric Tractimt Co., Ltd., is leaving early in the New Year for South Africa, where, for a time, he will participate in the direction and management of the Merchants Industrial group of companies, in which the B.E.T is substantially interested. During Mr. • Ellery's absence MR. G. H. Waists, C.A., the B.E.T. accountant, will function also as acting secretary. MR, A. W. GROOCOCK, F.C.I.S., assistant secretary of The B.E.T. Federation, Ltd., has been appointed assistant secretary to theB.E.T. company.
Tags
People
:
R. J. ELLERY
,
G. H. Waists
,
J. MEAD
,
J SHERWIN
,
S JAAFAR
,
G. BRAGG
,
A. M. STELFOX
,
RORY MORE OPERRALL
,
E. A. MURPHY
,
E. C. Woomal
,
D. ROOTES
,
W. S. YOUNGER
,
Brian Lucy
,
LEONARD C. KITCHENER
,
R. GRESHAM COOKE
,
E. B. HENSHAW
,
Thatcher
,
Middleton