In a Line or Two
18th November 1949
Page 34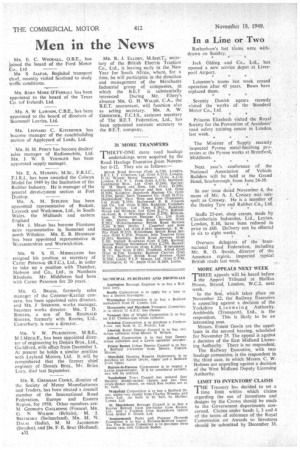 Page 34, 18th November 1949 —
In a Line or Two
Close
Rotherham's last trams were withdrawn on Sunday.
Jack Olding and Co., Ltd., has opened a new service depot at Liverpool Airport.
Leicester's trams last week ceased operation after 45 years. Buses have replaced them.
_ Seventy Danish agents recently visited the works of the Standard Motor Co., Ltd.
Princess Elizabeth visited the Royal Society for the Prevention of Accidents' road safety training centre in Londork last week.
The Minister of Supply recently. inspected Pyrene metal-finishing processes at the Pyrene works at Brentford; Middlesex.
Next year's conference of the National Association of Vehicle Builders will be held at the Grand Hotel, Scarborough, from June 24-30.
In our issue dated November 4, the name of Mr. A. J. Cressey was misspelt as Creasey. He is a member of the Henley Tyre and Rubber Co., Ltd.
Staffa 25-cwt. shop cranes, made by Chamberlain Industries, Ltd., Leyton, London, E.10, have been reduced in price to £60. Delivery can be effected in six to eight weeks.
Overseas delegates of the International Road Federation, including Mr. R. 0. Swain, director of the American region, inspected typical British roads last week.
MORE APPEALS NEXT WEEK THREE appeals will be heard before 1 the Appeal Tribunal at Halifax House, Strand, London, W.C.2, next week. • " In the first, which takes place on November 22, the 'Railway Executive is appealing against a decision of the Yorkshire L ic en sing Authority. Archbolds (Transport), Ltd., is the respondent. This is likely to be an interesting case.
Messrs. Ernest Oswin are the appellants in the second hearing, scheduled for November 25. The appeal is against a decision of the East Midland Licensing Authority.' There is no respondent.
The Railway Executive, with two haulage companies, is the respondent in the third case, in which Messrs. C. W.Holmes are appealing against a decision of the West Midland Deputy Licensing Authority.
LIMIT TO INVENTORS' CLAIMS
THE Treasury has decided to set a time limit within which claims regarding the use of inventions and designs by the Crown should be made to the Government departments concerned. Claims under heads 1, 3 and 4 of the terms of reference of the Royal Commission on Awards to Inventors should be submitted by December 31.