Record Output: Exports £1,000,000 Up
18th November 1949
Page 33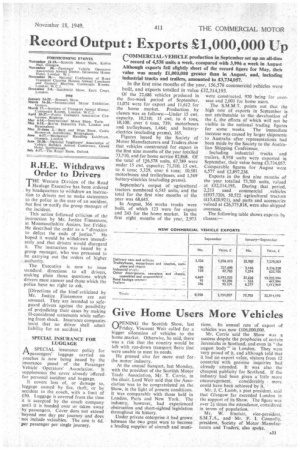 Page 33, 18th November 1949 —
Record Output: Exports £1,000,000 Up
Close
FORTHCOMING EVENTS November 11-19.—Scottish Motor Show, Kelvin Hall. Glasgow. November 28.—Passenger Vehicle Operators Association Annual Dinner, Grosvenor House Hotel, London W.I.
November MI.— National Conference of Road Transport Clearing Houses Annual Luncheon and General Meeting, Connaught Rooms. London, W.C.2.
December 5-9.—Stniih8cid Show, Earls Court, London.
1950 January 14-25.—Brussels Show.
March 16-26.—International Motor Exhibition, Geneva.
March 17.--institute of Transport Annual Dinner, Connaught Rooms. London, W.C.Z.
April 25-27.—Public 'Transport Association Conference, Brighton.
May 4-14.—International Motor Show, Turin, May 8-19.—British Industries Fair, London and Birmingham. May 3I-June 3.—Bath and West Show, Castle Bromwich Aerodrome, Birmingham. June 6-17.—Mechanical Handling Exhibition, Olympia, London June 24-30.—National Employers' Association of Vehicle Builders Annual Conference, Grand Hotel, Scarborough. July 4-17.—The Royal Show. Oxford.
11.1-1.E. Withdraws Order to Drivers THE Western Division of the Road Haulage Executive has been ordered by headquarters to withdraw an instruction to drivers not to make statements to the police in the case of an accident, hut first to notify the group manager of the incident.
This action followed criticism of the instruction by Mr. Justice Finnemore, at Monmouthshire Assizes, last Friday. He described the order as a "direction to defeat the ends of justice." He hoped it would be withdrawn immediately and that drivers would disregard it, The instruction was issued by a group manager, who was presumed to be carrying out the orders of higher authority.
The Executive is now to issue standard directions to all drivers, making plain those questions which drivers must answer and those which the police have no right to a'sk.
[Directions of the kind criticized by Mr. Justice Firmer:flare are not unusual. They are intended to safeguard drivers against the possibility of prejudicing their cases hy making ill-considered statements while suffering from shock. Insurance companies insist that no driver shall admit liability for an accident.)
SPECIAL INSURANCE FOR LUGGAGE
ASPECIAL insurance policy for ,passengers' luggage carried on coaches is now being issued by the insurance panel of• the Passenger Vehicle Operators' Association. It supplements the cover already offered for personal accident and baggage.
It covers loss of, or damage to, luggage caused by fire, theft, or by accident to the coach, with a limit of £50. Luggage is covered from the time it •is accepted by the coach company until it is handed over or taken away by passengers. Cover does not extend beyond one day per journey and does not include valuables.: The cost is 6d. per passenger per single journey.