Give Home Users More Vehicles
18th November 1949
Page 33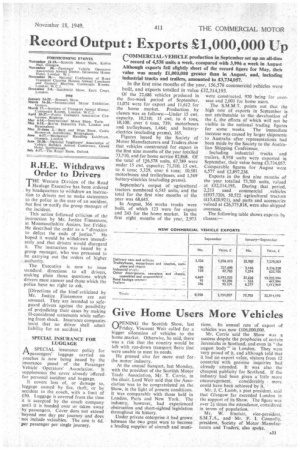 Page 33, 18th November 1949 —
Give Home Users More Vehicles
Close
,OPENING the Scottish Show, last Friday, Viscount Weir called for a bigger allocation of vehicles to the home market. Otherwise, he said, there was a risk that the country would be Left with run-down transport fleets that were unable to meet its needs.
He pressed also for more steel for the motor industry.
At the annual banquet, last Monday, with the president of the Scottish Motor Trade Association, Mr. T. Corrie, in the chair, Lord Weir said that the Association was to be congratulated on the Show, in the light of present conditions. It was comparable with those held in London,. Paris and New York. The industry, however, had experienced obstruction and short-sighted legislation throughout its history.
Under private enterprise it had grown between the two great wars to become a leading supplier of aircraft and muni
tions. Its annual rate of export of vehicles was now £106,000,000.
Mr. Corrie said the Show was a success despite the prophecies of certain Jeremiahs in Scotland, and even in "the august body" in London. They were very proud of it, and although told that it had no export value, visitors from 12 countries with genuine inquiries had already attended. It was also the cheapest publicity for Scotland. lithe industry had been given a little more encouragement, considerably more could have been achieved by it.
Mr. J. C. Lamb, a past president, said that Glasgow far exceeded London in the support of its Show. The figure was over 2i times the attendance, considered in terms of population.
-Mr. W. Sinclair, vice-president, S.M.T.A., and Mr. F. 1. Connolly. president, Society of Motor Manufacturers and Traderq;., also spoke.