Beleaguered ban
16th February 1989
Page 8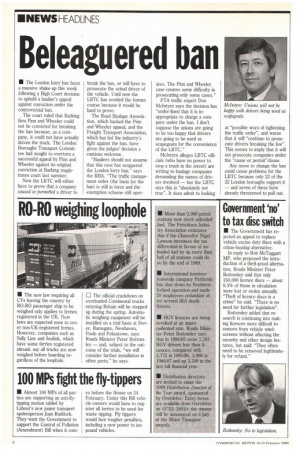 Page 8, 16th February 1989 —
Beleaguered ban
Close
• The London lorry ban faces a massive shake-up this week following a High Court decision to uphold a haulier's appeal against conviction under the controversial ban.
The court ruled that Barking firm Pinn and Wheeler could not be convicted for breaking the ban because, as a company, it could not have actually driven the truck. The London Boroughs Transport Committee had sought to overturn a successful appeal by Finn and Wheeler against its original conviction at Barking magistrates court last summer.
Now the LBTC will either have to prove that a company caused or permitted a driver to break the ban, or will have to prosecute the actual driver of the vehicle. Until now the LBTC has avoided the former course because it would be hard to prove.
The Road Haulage Association, which backed the Pinn and Wheeler appeal, and the Freight Transport Association, which has led the industry's fight against the ban, have given the judges' decision a cautious welcome.
"Hauliers should not assume that this case has scuppered the London lorry ban," says the RHA. "The traffic management order (the basis for the ban) is still in force and the exemption scheme still oper ates. The Pinn and Wheeler case creates some difficulty in prosecuting only some cases."
FTA traffic expert Don McIntyre says the decision has "under-lined that it is inappropriate to charge a company under the ban. I don't suppose the unions are going to be too happy that drivers are going to be used as scapegoats for the convenience of the LBTC."
McIntyre alleges LBTC officials (who have no power to stop a truck in the street) are writing to haulage companies demanding the names of drivers involved — but the LBTC says this is "absolutely not true". It does admit to looking at "possible ways of tightening the traffic order", and warns that it will "continue to prosecute drivers breaking the law". This seems to imply that it will not prosecute companies under the "cause or permit"clause.
Any move to change the ban could cause problems for the LBTC because only 22 of the 32 London boroughs support it — and seven of these have already threatened to pull out.