Insurance fraud verdict
16th February 1989
Page 24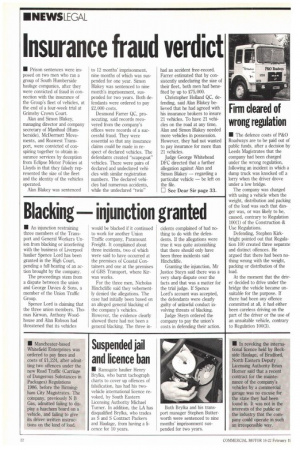 Page 24, 16th February 1989 —
Insurance fraud verdict
Close
• Prison sentences were imposed on two men who ran a group of South Humberside haulage companies, after they were convicted of fraud in connection with the insurance of the Group's fleet of vehicles, at the end of a four-week trial at Grimsby Crown Court.
Alan and Simon Blakey, managing director and company secretary of M,axihaul (Humberside), McDermott Movements, and Roawest Transport, were convicted of conspiring together to obtain insurance services by deception from Eclipse Motor Policies at Lloyds in that they falsely represented the size of the fleet and the identity of the vehicles operated.
Alan Blakey was sentenced to 12 months' imprisonment, nine months of which was suspended for one year. Simon Blakey was sentenced to nine month's imprisonment, suspended for two years. Both defendants were ordered to pay 22,000 costs.
Desmond Farrer QC, prosecuting, said records recovered from the company's offices were records of a successful fraud. They were essential so that any insurance claims could be made in respect of declared vehicles, The defendants created "scapegoat" vehicles. There were pairs of declared and undeclared vehicles with similar registration numbers. The declared vehicles had numerous accidents, while the undeclared "twin" had an accident free-record. Farrer estimated that by consistently undeclaring the size of their fleet, both men had benefited by up to 275,000.
Christopher Holland QC, defending, said Alan Blakey believed that he had agreed with his insurance brokers to insure 21 vehicles. To have 21 vehicles on the road at any time, Alan and Simon Blakey needed more vehicles in possession. However, they had not wanted to pay insurance for more than 21 vehicles.
Judge George Whitehead DFC directed that a further allegation against Alan and Simon Blakey — regarding a particular vehicle — be left on the file.
LI See Dear Sir page 33.