Firm cleared of wrong regulation
16th February 1989
Page 24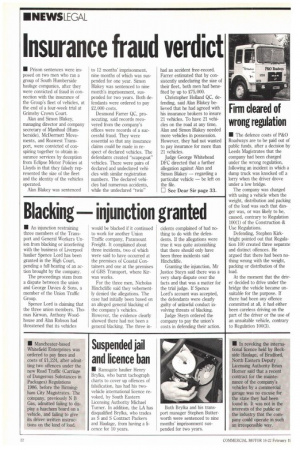 Page 24, 16th February 1989 —
Firm cleared of wrong regulation
Close
The defence casts of P&O Roadways are to be paid out of public funds, after a decision by Leeds Magistrates that the company had been charged under the wrong regulation, following an incident in which a dump truck was knocked off a lorry when the driver drove under a low bridge.
The company was charged with using a vehicle when the weight, distribution and packing of the load was such that danger was, or was likely to be, caused, contrary to Regulation 100(1) of the Construction & Use Regulations.
Defending, Stephen Kirkbright pointed out that Regulation 100 created three separate and distinct offences. He argued that there had been nothing wrong with the weight, packing or distribution of the load.
At the moment that the driver decided to drive under the bridge the vehicle became unsuitable for the purpose. If there had been any offence committed at all, it had either been careless driving on the part of the driver or the use of an unsuitable vehicle, contrary to Regulation 100(3).