Blacking-injunction granted
16th February 1989
Page 24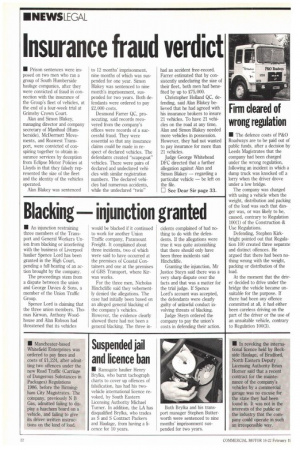 Page 24, 16th February 1989 —
Blacking-injunction granted
Close
• An injunction restraining three members of the Transport and General Workers Union from blacking or interfering with the business of Liverpool haulier Spence Lord has been granted in the High Court, pending a full hearing of an action brought by the company.
The proceedings stem from a dispute between the union and George Davies & Sons, a member of the Union Traffic Group.
Spence Lord is claiming that the three union members. Thomas Kirwan, Anthony Woodhouse and Alan Robson had threatened that its vehicles would be blacked if it continued to work for another Union Traffic company, Paramount Freight. It complained about three incidents, two of which were said to have occurred at the premises of Coastal Containers and one at the premises of GBS Transport, where Kirwan works.
For the three men, Nicholas Hinchcliffe said they vehemently denied the allegations. The case had initially been based on an alleged general blacking of the company's vehicles. However, the evidence clearly showed there had not been a general blacking. 'Ile three in cidents complained of had nothing to do with the defendents. If the allegations were true it was quite astonishing that there should only have been three incidents said Hinchcliffe.
Granting the injunction, Mr Justice Steyn said there was a very sharp dispute over the facts and that was a matter for the trial judge. If Spence Lord's account was accepted, the defendants were clearly guilty of unlawful conduct involving threats of blacking.
Judge Steyn ordered the company to pay the union's costs in defending their action.