The good doctor
16th February 1989
Page 12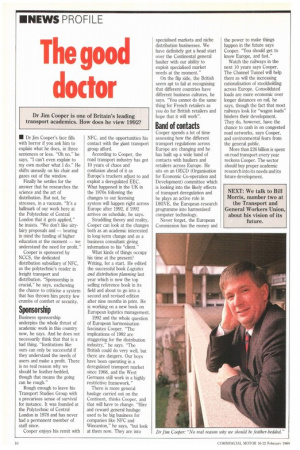 Page 12, 16th February 1989 —
The good doctor
Close
Dr Jim Cooper is one of Britain's leading transport academics. How does he view 1992?
• Dr Jim Cooper's face fills with horror if you ask him to explain what he does, in three sentences or less. "Oh no," he says, "I can't even explain to my own mother what I do." He shifts uneasily on his chair and gazes out of the window.
Finally he settles for the answer that he researches the science and the art of distribution. But not, he stresses, in a vacuum. "It's a hallmark of our work here at the Polytechnic of Central London that it gets applied," he insists. "We don't like airyfairy proposals and — bearing in mind the funding of higher education at the moment — we understand the need for profit."
Cooper is sponsored by NCCS, the dedicated distribution subsidiary of NFC, as the polytechnic's reader in freight transport and distribution. "Sponsorship is crucial," he says, eschewing the chance to criticise a system that has thrown him pretty few crumbs of comfort or security.
Sponsorship
Business sponsorship underpins the whole thrust of academic work in this country now, he says. And he does not necessarily think that that is a bad thing. "Institutions like ours can only be successful if they understand the needs of users and make a profit. There is no real reason why we should be feather-bedded, though that means the going can be rough."
Rough enough to leave his Transport Studies Group with a precarious sense of survival for instance. It was founded at the Polytechnic of Central London in 1978 and has never had a permanent member of staff since.
Cooper enjoys his remit with NFC, and the opportunities his contact with the giant transport group afford.
According to Cooper, the road transport industry has got 10 years of chaos and
confusion ahead of it as Europe's truckers adjust to and exploit a deregulated EEC. What happened in the UK in the 1970s following the changes to our licensing system will happen right across Europe after 1992, if 1992 arrives on schedule, he says.
Straddling theory and reality, Cooper can look at the changes both as an academic interested in long-term change and as a business consultant giving information to his "client."
What kinds of things occupy his time at the present? Writing, for a start. He edited the successful book Logistics and distribution planning last year which is now the top selling reference book in its field and about to go into a second and revised edition after nine months in print. He is working on a new book on European logistics management.
1992 and the whole question of European harmonisation fascinates Cooper. "The implications of 1992 are staggering for the distribution industry," he says. "The British could do very well, but there are dangers. Our boys have been operating in a deregulated transport market since 1968, and the West Germans still work in a highly restrictive framework."
There is more general haulage carried out on the Continent, thinks Cooper, and that will have to change. "Hire and reward general haulage used to be big business for companies like NFC and Wincanton," he says, "but look at them now. They are into specialised markets and niche distribution businesses. We have definitely got a head start over the Continental general haulier with our ability to exploit specialised market needs at the moment."
On the flip side, the British seem apt to fail at recognising that different countries have different business cultures, he says. "You cannot do the same thing for French retailers as you do for British retailers and hope that it will work".
Band of contacts
Cooper spends a lot of time assessing how the different transport regulations across Europe are changing and he has built up a wide band of contacts with hauliers and retailers across Europe. He sits on an OECD (Organisation for Economic Co-operation and Development) committee which is looking into the likely effects of transport deregulation and he plays an active role in DRIVE, the European research programme into harmonised computer technology.
Never forget, the European Commission has the money and the power to make things happen in the future says Cooper. "You should get to know Europe, and fast."
Watch the railways in the next 10 years says Cooper. The Channel Tunnel will help them as will the increasing rationalisation of stockholding across Europe. Consolidated loads are more economic over longer distances on rail, he says, though the fact that most railways look for "wagon loads" hinders their development. They do, however, have the chance to cash in on congested road networks, says Cooper, and environmental fears from the general public.
More than 226 billion is spent on road transport every year reckons Cooper. The sector should buy proper academic research into its needs and its future development.