Our way of giving fast aid in a warehousing emergency.
12th March 1971
Page 85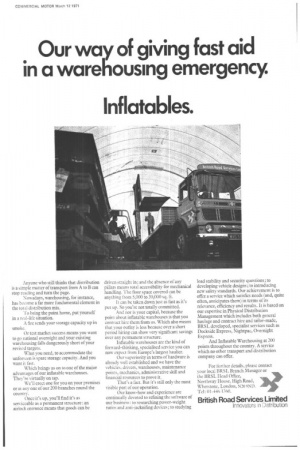 Page 85, 12th March 1971 —
Our way of giving fast aid in a warehousing emergency.
Close
Inflatables.
Anyone who still thinks that distribution is a simple matter of transport from A to B can stop reading and turn the page.
Nowadays, warehousing, for instance, has become a far more fundamental element in the total distribution mix.
To bring the point home, put yourself in a real-life situation.
A fire sends your storage capacity up in smoke.
Or test market success means you want to go national overnight and your existing warehousing falls dangerously short of your revised targets.
What you need, to accommodate the unforseen is spare storage capacity. And you want it fast.
Which brings us on to one of the major advantages of our inflatable warehouses. They're virtually on tap.
We'll erect one for you on your premises or at any one of our 200 branches round the country.
Once it's up, you'll find it's as serviceable as a permanent structure : an airlock entrance means that goods can be driven straight in; and the absence of any pillars means total accessibility for mechanical handling. The floor space covered can be anything from 5,000 to 30,000 sq. ft.
It can he taken down just as fast as it's put up. So you're not totally committed.
And nor is your capital, because the point about inflatable warehouses is that you contract hire them from us. Which also means that your outlay is less because over a short period hiring can show very significant savings over any permanent structure.
Inflatable warehouses are the kind of forward-thinking, specialised service you can now expect from Europe's largest haulier.
Our superiority in terms of hardware is already well established and we have the vehicles, drivers, warehouses, maintenance points, mechanics, administrative skill and financial resources to prove it.
That's a fact. But it's still only the most visible part of our operation.
Our know-how and experience are continually devoted to refining the software of our business : to researching power-weight ratios and anti-jacknifing devices; to studying load stability and security questions ; to developing vehicle designs; to introducing new safety standards. Our achievement is to offer a service which satisfies needs (and, quite often, anticipates them) in terms of its relevance, efficiency and results. It is based on our expertise in Physical Distribution Management which includes both general haulage and contract hire and tailor-made, BRSL developed, specialist services such as Dockside Express, Nightpac, Overnight Express.
And Inflatable Warehousing at 200 points throughout the country. A service which no other transport and distribution company can offer.