Management matters
12th March 1971
Page 50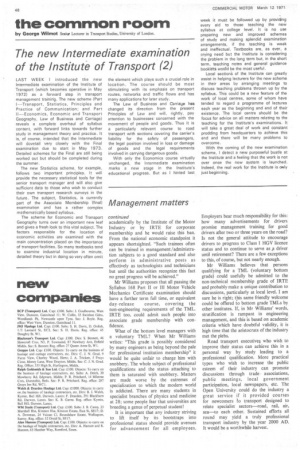 Page 50, 12th March 1971 —
Management matters
Close
continued academically by the Institute of the Motor Industry or by IRTE for corporate membership and he would raise this ban. From the national economic standpoint it appears shortsighted. "Such trainees often can be trained in management /administration subjects to a good standard and also perform in administrative posts as effectively as technologists and technicians but until the authorities recognize this fact no great progress will be achieved."
Mr Williams proposes that all passing the Syllabus 168 Part II or III Motor Vehicle Mechanics Certificate examination should have a further term full time, or equivalent day-release course, covering the non-engineering requirements of the TML. IRTE too, could admit such people into associate grade membership with confidence.
What of the bottom level managers with a voluntary TML? When Mr Williams writes: "This grade is possibly considered by many engineers as being beyond the pale for professional institution membership" it would be quite unfair to charge him with snobbery. The whole subject of professional qualifications and the status attaching to them is saturated with snobbery. Matters are made worse by the extremes of specialization to which the modern world is addicted. There are many students in specialist branches of physics and medicine at 28; some people fear that universities are breeding a genus of perpetual student?
It is important that any industry striving to lift itself by its bootstraps into professional status should provide avenues for advancement for all employees.
Employers bear much responsibility for this: how many advertisements for drivers promise management training for good drivers after two or three years on the road? Is not the general attitude to encourage drivers to progress to Class I HGV licence status and to continue to serve as A driver until retirement? There are a few exceptions to this, of course, but not nearly enough.
Mr Williams believes that persons qualifying for a TML (voluntary bottom grade) could usefully be admitted to the non-technical membership grade of IRTE and probably make a unique contribution to discussions, particularly at local level. I am sure he is right; this same friendly welcome could be offered to bottom grade TMLs by other institutes. If, in Mr Williams' words, stratification is rampant in engineering management, and this is based on academic criteria which have doubtful validity, it is high time that the aristocrats of the industry met the plebs.
Road transport executives who wish to improve their status can achieve this in a personal way by study leading to a professional qualification. More practical types who wish to increase the public esteem of their industry can promote discussions through trade associations, public meetings, local government participation, local newspapers, etc. The Open University could do the industry a great service if it provided courses for newcomers k transport designed to relate specialist sectors—road, rail, air, sea—to each other. Sustained efforts all round may yield a truly professional transport industry by the year 2000 AD. It would be a worthwhile harvest.