Q After reading CM December 25, page
12th March 1971
Page 47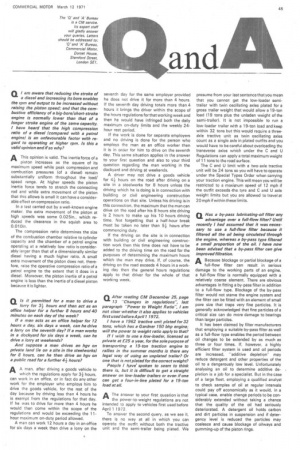 Page 47, 12th March 1971 —
Q After reading CM December 25, page
Close
13 "Changes in regulations", last paragraph "Power to Weight Ratio", I am not clear whether it also applies to vehicles first used before A prill 1972.
I have a 1962 tractive unit plated for 32 tons, which has a Gardner 150 bhp engine; will the power to weight ratio apply to that?
If I wish to use a low-loader, licensed as private at E.25 a year, for the sole purpose of transporting a 19-ton traction engine to rallies in the summer months is there any legal way of using an unplated trailer? Or one that is not plated for the correct weight?
People I have' spoken to seem to think there is, but it is difficult to get a straight answer on low-loader trailers or even if one can get a four-in-line plated for a 19-ton load at alt
AThe answer to your first question is that the power-to-weight regulations are not intended to apply to vehicles first used before April 11972.
To answer the second query, as we see it. there is no way at all in which you can operate the outfit without both the tractive unit and the semi-trailer being plated. We presume from your last sentence that you mean that you cannot get the low-loader semitrailer with twin oscillating axles plated for a gross trailer weight that would allow a 19-ton load (19 tons plus the unladen weight of the semi-trailer). It is not impossible to run a low-loader trailer with a 19-ton load and keep within 32 tons but this would require a threeaxle tractive unit as twin oscillating axles count as a single axle in plated outfits and you would have to be careful about overloading the transverse axles which under the C and U Regulations can apply a total maximum weight of 11 tons to the road surface.
The C and U limit with a two-axle tractive unit will be 24 tons so you will have to operate under the Special Types Order when carrying your traction engine. This will mean you will be restricted to a maximum speed of 12 mph if the outfit exceeds •the.tyre and C and U axle weight limits but you are allowed to travel at 20 mph if within these limits.