Minibuses or big 'uns for rural services?
12th March 1971
Page 41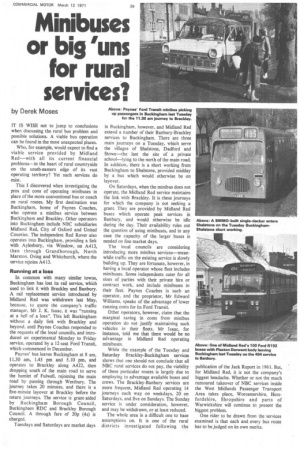 Page 41, 12th March 1971 —
Minibuses or big 'uns for rural services?
Close
by Derek Moses
IT IS WISE not to jump to conclusions when discussing the rural bus problem and possible solutions. A viable bus operation can be found in the most unexpected places.
Who, for example, would expect to find a viable service provided by Midland Red—with all its current financial problems—in the heart of rural countryside on the south-eastern edge of its vast operating territory? Yet such services do exist.
This I discovered when investigating the pros and cons of operating minibuses in place of the more conventional bus or coach on rural routes. My first destination was Buckingham, home of Paynes Coaches, who operate a minibus service between Buckingham and Brackley. Other operators into Buckingham include NBC subsidiaries Midland Red, City of Oxford and United Counties. The independent Red Rover also operates into Buckingham, providing a link with Aylesbury, via Winslow, on A413, then through Grandborough, North Marston, Oving and Whitchurch, where the service rejoins A413.
Running at a loss
In common with many similar towns, Buckingham has lost its rail service, which used to link it with Brackley and Banbury. A rail replacement service introduced by Midland Red was withdrawn last May, because, to quote the company's traffic manager, Mr J. K. Isaac, it was "running at a hell of a loss". This left Buckingham without a daily link with Brackley and beyond, until Paynes Coaches responded to the requests of the local councils, and introduced an experimental Monday to Friday service, operated by a 12-seat Ford Transit, which commenced in December.
Paynes' bus leaves Buckingham at 8 am, 11.30 am, 1.45 pm and 5.10 pm, and operates to Brackley along A422, then dropping south of the main road to serve the hamlet of Fulwell, rejoining the main road by passing through Westbury. The journey takes 20 minutes, and there is a five-minute layover at Brackley before the return journeys. The service is grant-aided by Buckingham Borough Council, Buckingham ADC and Brackley Borough Council. A through fare of 20p (4s) is charged.
Tuesdays and Saturdays are market days in Buckingham, however, and Midland Red extend a number of their Banbury-Brackley services to Buckingham. There are three main journeys on a Tuesday, which serve the villages of Shalstone, Dadford and Stowe—the last the site of a private school—lying to the north of the main road. In addition, there is a short working from Buckingham to Shalstone, provided midday by a bus which would otherwise be on layover.
On Saturdays, when the minibus does not operate, the Midland Red service maintains the link with Brackley. It is these journeys for which the company is not seeking a grant. They are provided by Midland Red buses which operate peak services in Banbury, and would otherwise be idle during the day. Their availability rules out the question of using minibuses, and in any case the capacity of the larger buses is needed on fine market days.
The local councils are considering introducing more minibus services—meanwhile traffic on the existing service is slowly building up. They are fortunate, however, in having a local operator whose fleet includes minibuses. Some independents cater for all sizes of parties with their private hire or contract work, and include minibuses in their fleet. Paynes Coaches is such an operator, and the proprietor, Mr Edward Williams, speaks of the advantage of lower running costs for its Ford Transit.
Other operators, however, claim that the marginal saving in costs from minibus operation do not justify maintaining such vehicles in their fleets. Mr Isaac, for instance, told me that there would be no advantage in Midland Red operating minibuses.
While the example of the Tuesday and Saturday Brackley-Buckihgham services shows that one should not conclude that all NBC rural services do not pay, the viability of these particular routes is largely due to employing to advantage available buses and crews. The Brackley-Banbury services are more frequent, Midland Red operating 14 journeys each way on weekdays, 20 on Saturdays, and five on Sundays. The Sunday service is under consideration, however, and may be withdrawn, or at least reduced.
The whole area is a difficult one to base assumptions on. It is one of the rural districts investigated following the publication of the Jack Report in 1961. But, for Midland Red, it is not the company's biggest headache. Whether or not the much rumoured takeover of NBC services inside the West Midlands Passenger Transport Area takes place, Worcestershire, Herefordshire, Shropshire and parts of Warwickshire will continue to present the biggest problem.
One rider to be drawn from the services examined is that each and every bus route has to be judged on its own merits.