letters
12th March 1971
Page 28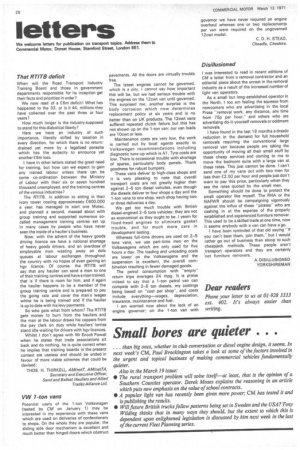 Page 28, 12th March 1971 —
letters
Close
That RTITB deficit
When will the Road Transport Industry Training Board and those in government departments responsible for its inception get their facts and priorities in order?
We now read of a C6m deficit! What has happened to the 33, or is it 44, millions they have collected over the past three or four years?
How much longer is the industry supposed to stand for this diabolical liberty ?
Here we have an industry of such importance, literally stifled by taxation in every direction, for which there is no return; drained yet more by a legalized parasite which has the audacity to announce yet another E6m loss.
I have in other letters stated the great need for training, but how can we expect to gain any trained labour unless there can be some co-ordination between the Ministry of Labour with their six or seven hundred thousand unemployed, and the training centres of the various industries?
The RTITB, in addition to sitting in their ivory tower costing approximately £600,000 a year, has managed to start one Motec, and planned a second, messed about with group training and supported numerous socalled management training centres set up in many cases by people who have never seen the inside of a haulier's business.
Now, with the advent of the heavy goods driving licence we have a national shortage of heavy goods drivers, and an overdose of employable men wasting away on dole queues at labour exchanges throughout the country with no hopes of even gaining an hgv licence. Of course, the RTITB will say that any haulier can send a man to one of their training centres and haves man trained. that is if there is room for him, and if again the haulier happens to be a member of the group training centre and is prepared to pay the going rate and cover the man's wages whilst he is being trained and if the haulier is up to date with his levy payments.
So who gets what from whom? The RTITB gets money to burn from the hauliers and the man at the labour draws his coppers from the pay clerk on duty while hauliers' lorries stand idle waiting for drivers with hgv licences.
Whilst I don't agree with Mr Enoch Powell when he states that trade associations sit back and do nothing, he is quite correct when he implies that training boards in the present context are useless and should be ended in favour of more viable schemes that could be devised; THOS. H. THIRKELL, AMInstT, AMInstTA, Secretary and Executive Officer, Sand and Ballast Hauliers and Allied Trades Alliance Ltd.
VW 1-ton vans
Potential users of the 1-ton Volkswagen (tested by CM on January 11 may be interested in my experience with these vans which are used on deliveries of confectionery to shops. On the whole they are popular, the sliding side door mechanism is excellent and much better than hinged doors which obstruct pavements. All the doors are virtually trouble free.
The latest engines cannot be governed, which is a pity, I cannot say how important this will be, but we had serious trouble with the engines on the 12cwt van until governed. This surprised me; another surprise is the body corrosion which now determines replacement policy at six years and is no better than on UK products. The 12cwt vans suffered repeated clutch failure but this has not shown up on the 1-ton van; our van loads are 10cwt or less.
Maintenance costs are very low, the work is carried out by local agents exactly to Volkswagen recommendations including diagnostic tune-up which is Al . Tyre costs are low. There is occasional trouble with shortage of spares, particularly body panels. Thank goodness for robust bumpers.
These vans deliver to high-class shops and it is very pleasing to note that overall transport costs are not greatly higher than against 2-5 ton diesel vehicles, even though the diesels deliver to four shops a day and the 1-ton vans to one shop, each shop having two or three deliveries a day.
We get too much trouble with British diesel-engined 2-5 tons vehicles; they are not as economical as they ought to be. I yearn for fixed-head engines to eliminate gasket trouble, and for much more care in development testing.
Whereas full-time drivers are used on 2-5 tons vans, we use part-time men on the Volkswagens which are only used for five hours a day. The loading and unloading costs are lower on the Volkswagens and the suspension is excellent, the overall combination resulting in fewer damaged goods.
The petrol consumption with "empty" return trips averages 24 mpg. It is praise indeed to say that a 1-ton petrol van can compete with 2-5 ton diesels, my costings being based on "cost per shop", and costs include everything—wages, depreciation, insurance, maintenance and fuel.
I am worried now about the lack of an engine governor; on the 1-ton van with
Disillusioned
I was interested to read in recent editions of CM a letter from a removal contractor and an editorial piece about the unrest in the removal industry as a result of the increased number of light van operators.
As a small but long-established operator in the North, I too am feeling the squeeze from newcomers who are advertising in the local Press -removal work, any distance, any time from 75p per hour," and others who are advertising do-it-yourself removals or oddment removals.
I have found in the last 18 months a drastic reduction in the demand for full household removals requiring the conventional large removal van because people are taking the opportunity of moving all their small stuff by these cheap services and coming to me to move the bedroom suite with a large van at these rates. This just cannot be done. I can't send one of my vans out with two men for less than £2.50 per hour and people just don't want to pay this price, particularly when they see the rates quoted by the small men.
Something should be done to protect the small operator like myself, The RHA or the NAFVVR should be campaigning vigorously against the influx of these "pirates" who are cashing in at the expense of the properly established and experienced furniture remover. This used to be a skilled trade at one time, now it seems anybody with a van can have a go.
I have been reminded of that old saying "If you can't beat them, join them," but I would rather go out of business than stoop to such cheapjack methods. These people aren't transport operators and they are certainly 'not furniture removers.
A DISILLUSIONED YORKSHIREMAN