meet
12th March 1971
Page 27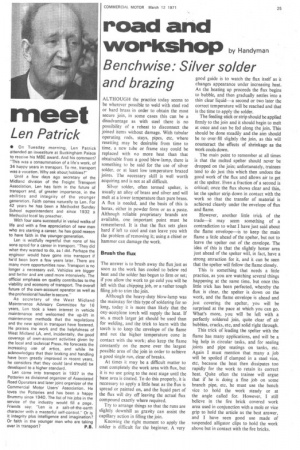 Page 27, 12th March 1971 —
meet
Close
Len Patrick
• On Tuesday morning, Len Patrick attended an investiture at Buckingham Palace to receive his MBE award. And his comment? "This was a consummation of a life's work, of 34 happy years in transport. To me, transport was a vocation. Why ask about hobbies?"
Until a few days ago secretary of the Midland division of the Freight Transport Association, Len has faith in the future of transport and, of greater importance, in the abilities and integrity of the younger generation. Faith comes naturally to Len. For 42 years he has been a Methodist Sunday School superintendent and since 1932 a Methodist local lay preacher.
With four sons successful in variedwalks of life and with a fine appreciation of new men who are starting a career, he has good reason to have faith in the younger generation.
Len is wistfully regretful that none of his sons opted for a career in transport. "They did what they wanted to do, as I did. Perhaps the engineer would have gone into transport if he'd been born a few years later. There are many more opportunities now. Transport is no longer a necessary evil. Vehicles are bigger and better and are used more intensively. The official emphasis on quality contributes to the viability and economy of transport. The overall future of the own-account operator as well as the professional haulier is secure."
As secretary of the West Midland Maintenance Advisory Committee for 16 years, . Len took a keen interest in vehicle maintenance and welcomed the up-lift in maintenance methods that the regulations and the new spirit in transport have fostered, He praises the work and the helpfulness of West Midland LA, and, incidentally, the good coverage of own-account activities given by the local and technical Press. He forecasts the increasing use of artics, and while he acknowledges that their braking and handling have been greatly improved in recent years, he considers that they could (and should) be developed to a higher standard.
Len came into transport in 1937 in the Potteries as divisional organizer of Associated Road Operators and later joint organizer of the Commercial Motor Users' Association. He loves the Potteries and has been a happy crummy since 1940. The list of his jobs in the service of the industry would fill a page. Friends say: "Len is a salt-of-the-earth character with a masterful self-control." Or is it integrity plus intelligence and imagination? Or faith in the younger men who are taking over in transport? P.B.