Primrose/Boxer gearbox option raises payload
12th March 1971
Page 25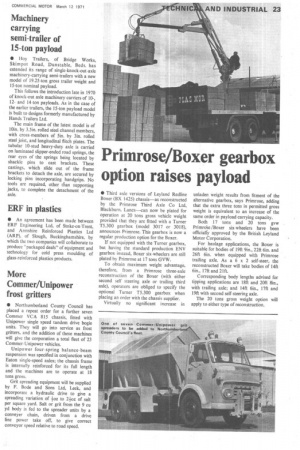 Page 25, 12th March 1971 —
Primrose/Boxer gearbox option raises payload
Close
• Third axle versions of Leyland Redline Boxer (BX #425) chassis—as reconstructed by the Primrose Third Axle Co Ltd, Blackburn, Lancs—can now be plated for operation at 20 tons gross vehicle weight provided that they are fitted with a Turner T5.300 gearbox (model 3017 or 3018), announces Primrose. This gearbox is now a regular production option for the Boxer.
If not equipped with the Turner gearbox, but having the standard production ENV gearbox instead, Boxer six-wheelers are still plated by Primrose at 17 tons GVW.
To obtain maximum weight advantage, therefore, from a Primrose three-axle reconstruction of the Boxer (with either second self steering axle or trailing third axle), operators are obliged to specify the optional Turner T5.300 gearbox when placing an order with the chassis supplier.
Virtually no significant increase in unladen weight results from fitment of the alternative gearbox, says Primrose, adding that the extra three tons in permitted gross weight is equivalent to an increase of the same order in payload carrying capacity.
Both 17 tons and 20 tons gvw PrimrdSe /Boxer six-wheelers have been officially approved by the British Leyland Motor Corporation.
For haulage applications, the Boxer is suitable for bodies of 19ft 9in., 22ft 6in. and 26ft 6in. when equipped with Primrose trailing axle. As a 6 x 2 self-steer, the reconstructed Boxer will take bodies of 14ft 6in., 17ft and 21ft.
Corresponding body lengths advised for tipping applications are 1811 and 20ft 8in., with trailing axle; and 1411 6in., 1711 and 19ft with second self-steering axle.
The 20 tons gross weight option will apply to either type of reconstruction.