• The Freight Transport Association is to hold a series
12th March 1971
Page 17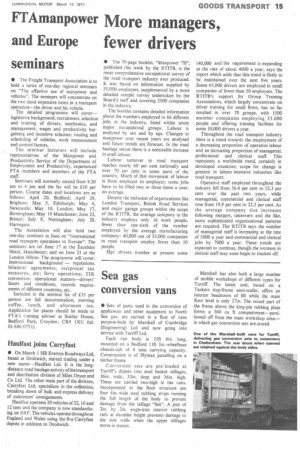 Page 17, 12th March 1971 —
• The Freight Transport Association is to hold a series
Close
of one-day regional seminars on "The effective use of manpower and vehicles". The seminars will concentrate on the two most expensive items in a transport operation—the driver and his vehicle.
The detailed programme will cover— legislative background; recruitment, selection and training of drivers, mechanics, and management; wages and productivity bargaining and incentive schemes; routing and scheduling of vehicles, work measurement and control factors.
The seminar lecturers will include representatives of the Manpower and Productivity Service of the Department of Employment and Productivity, experienced FTA members and members of the FTA staff Seminars will normally extend from 9.30 am to 6 pm and the fee will be ,f10 per person. Course dates and locations are as follows: April 20, Bedford; April 29, Brighton; May 5, Edinburgh; May 6, Newcastle; May 10, London; May 17, Birmingham; May 19 Manchester; June 23, Bristol; July 8, Nottingham; July 28, Harrogate.
The Association will also hold two one-day seminars in June on "International road transport operations to Europe". The seminars are on June 17 at the Excelsior Hotel, Manchester; and on June 21 at the London Hilton. The programme will cover: international background — regulations, bilateral agreements, reciprocal •tax measures, etc; ferry operations; TIR convention; operational matters—drivers' hours and conditions, records requirements of different countries, etc.
Included in the seminar fee of .£15 per person are full documentation, morning coffee, lunch, and afternoon tea. Application for places should be made to FTA's training adviser at Sunley House, Bedford Park, Croydon, CR9 1XU (tel. 01-686 0731). • The 70-page booklet, "Manpower '70", published this week by the RTITB, is the most comprehensive occupational survey of the road transport industry ever produced. It was based on information supplied by 55,000 employers, supplemented by a more detailed sample survey undertaken by the Board's staff and covering 2500 companies in the industry.
The booklet contains detailed information about the numbers employed in 66 different jobs in the industry, listed within seven major occupational groups. Labour is analysed by sex and by age. Changes in manpower over recent years are analysed and future trends are forecast. In the road haulage sector there is a noticeable increase in craft labour.
Labour turnover in road transport reaches nearly 60 per cent nationally and over 70 per cent in some parts of the country. Much of this movement of labour is from employer to employer; some jobs have to be filled two or three times a year, on average.
Despite the inclusion of organizations like London Transport, British Road Services and major garage groups within the scope of the RTITB, the average company in the industry employs only 16 work people, fewer than one-sixth of the number employed by the average manufacturing company: 40,000 out of 55,000 companies in road transport employ fewer than 10 people.
Hgv drivers number at present some 140,000 and the requirement is expanding at the rate of about 4000 a year, says the report which adds that this trend is likely to be maintained over the next five years. Some 65,000 drivers are employed in small companies of fewer than 50 employees. The RTITB's support for Group Training Associations, which largely concentrate on driver training for small firms, has so far resulted in over 70 groups, with 1500 member companies employing 55,000 people and offering training facilities for some 10,000 drivers a year.
Throughout the road transport industry there is a trend towards the employment of a decreasing proportion of operative labour and an increasing proportion of managerial, professional and clerical staff. This represents a worldwide trend, certainly in developed countries; scope for change is greatest in labour-intensive industries like road transport.
Operative staff employed throughout the industry fell from 56.4 per cent to 52.3 per cent over the past two years, while managerial, commercial and clerical staff rose from 19.9 per cent to 22.3 per cent. As the average company size increases following mergers, takeovers and the like, more sophisticated organizational patterns are required. The RTITB says the number of managerial staff is increasing at the rate of 5000 a year and commercial and clerical jobs by 7000 a year. These trends are expected to continue, though the increase in clerical staff may soon begin to slacken off.