Union re-thinking on tachographs
12th March 1971
Page 13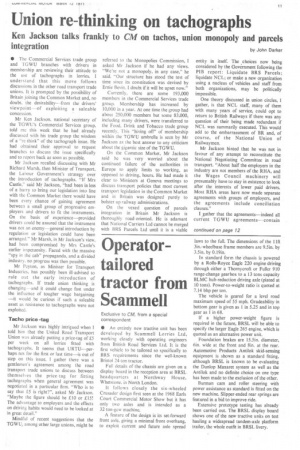 Page 13, 12th March 1971 —
Union re-thinking on tachographs
Close
Ken Jackson talks frankly to CM on tachos, union monopoly and parcels
by John Darker
integration
• The Commercial Services trade group and TGWU branches with drivers in membership are reviewing their attitude to the use of tachographs in lorries. I understand that this move follows discussions in the other road transport trade unions. It is prompted by the possibility of Britain joining the Common Market and, no doubt, the desirability—from the drivers' viewpoint--of exploiting a • saleable concession.
Mr Ken Jackson, national secretary of the TGWU's Commercial Services group, told me this week that he had already discussed with his trade group the wisdom of a "re-think" of the tachograph issue. He had obtained their approval to request branches to discuss the issue specifically and to report back as soon as possible.
Mr Jackson recalled discussing with Mr Richard Marsh, then Minister of Transport, the Labour Government's strategy over the introduction of tachographs. "If Mrs Castle," said Mr Jackson, "had been in less of a hurry to bring our legislation into line with the Common Market there would have been every chance of gaining agreement between a small group of progressive employers and drivers to fit the instruments. On the basis of experience—provided drivers could be assured that the instrument was not an enemy—general introduction by regulation or legislation could have been arranged." Mr Marsh, in Mr Jackson's view, had been compromised by Mrs Castle's earlier impetuosity. Faced with the massive "spy in the cab" propaganda, and a divided industry no progress was then possible.
Mr Peyton, as Minister for Transport Industries, has possibly been ill-advised to rule out the early introduction of tachographs. If trade union thinking is changing and it could change fast under the influence of tougher wage bargaining —it would be curious if such a saleable asset as resistance to tachographs were not exploited.
Tacho price-tag Mr Jackson was highly intrigued when I told him that the United Road Transport Union was already putting a price-tag of £5 per week on all lorries fitted with tachographs. It seems that URTU—perhaps not for the first or last time—is out of step on this issue. I gather there was a gentlemen's agreement among the road transport trade unions to discuss between themselves the price-tag for fitting tachographs when general agreement was negotiated in a particular firm. "Who is to say that £5 is right?", asked Mr Jackson. "Maybe the figure should be £10 or £15! The advantage to employers and the effects on driving habits would need to be looked at in great detail."
Mindful of recent suggestions that the TGWU, among other large unions, might be
referred to the Monopolies Commission, I asked Mr Jackson if he had any views. "We're not a monopoly, in any case," he said. "Our structure has stood the test of time since its constitution was devised by Ernie Bevin. I doubt if it will be upset now."
Currently, there are some 193,000 members in the Commercial Services trade group. Membership has increased by 10,000 in a year. At one time the group had about 250,000 members but some 83,000, including many drivers, were transferred to the Food, Drink and Tobacco trade group recently. This "hiving off" of membership within the TGWU umbrella is seen by Mr Jackson as the best answer to any criticism about the gigantic size of the TGWU.
On the Common Market, Mr Jackson said he was very worried about the continued failure of the authorities in Europe to apply limits to working, as opposed to driving, hours. He had made it clear to Ministers at Geneva meetings to discuss transport policies that most current transport legislation in the Common Market and in Britain was designed purely to bolster up railway administrations.
On the vexed question of parcels integration in Britain Mr Jackson is thoroughly road-oriented. He is adamant that National Carriers Ltd cannot be merged with BRS Parcels Ltd until it is a viable entity in itself. The ,choices now being considered by the Government following the NB report: Liquidate BRS Parcels; liquidate NCL; or make a new organization using a nucleus of vehicles and staff from both organizations, may be politically impossible.
One theory discussed in union circles, I gather, is that NCL staff, many of them with many years of service, could opt to return to British Railways if there was any question of their being made redundant if NCL was summarily executed. This would add to the embarrassment of BR and, of course, of the National Union of Railwaymen.
Mr Jackson hinted that he was not in favour of any attempt to reconstitute the National Negotiating Committee in road transport. "About half the employers in the industry are not members of the RHA, and the Wages Council machinery will presumably have to stay in existence to look after the interests of lower paid drivers. Most RHA areas have now made separate agreements with groups of employers, and the agreements include conciliation clauses."
I gather that the agreements—indeed all current TGWU agreements—contain
continued on page 12