Operator
12th March 1971
Page 13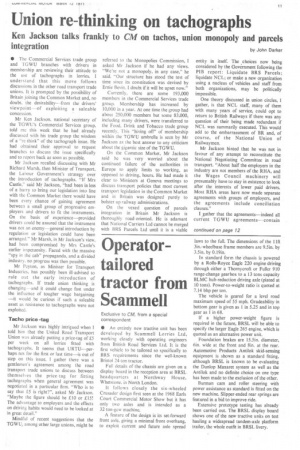 Page 13, 12th March 1971 —
Operator
Close
tailored tractor from Scammell
Exclusive to CM, from a special correspondent
• An entirely new tractive unit has been developed by Scammell Lorries Ltd, working closely with operating engineers from British Road Services Ltd. It is the first vehicle to be tailored so specifically to BRS requirements since the well-known Bristol 24-ton tractor.
Full details of the chassis are given on a display board in the reception area at BRSL headquarters at Northway House, Whetstone, in North London.
It follows closely the six-wheeled Crusader design first seen at the 1968 Earls Court Commercial Motor Show but it has only two axles and is intended as a 32-ton-gcw machine.
A feature of the design is its set-forward front axle, giving a minimal front overhang, to exploit current and future axle spread laws to the full. The dimensions of the 11ft 3in.-wheelbase frame members are 9.5in. by 3.5in. by 0.19in.
In standard form the chassis is powered by a Rolls-Royce Eagle 220 engine driving through either a Thorny croft or Fuller 910 range-change gearbox to a 13 tons capacity BLMC hub-reduction driving axle (plated at 10 tons). Power-to-weight ratio is quoted at 7.14 bhp per ton.
The vehicle is geared for a level road maximum speed of 55 mph. Gradeability in bottom gear is given as 1 in 5.25 and in top gear as 1 in 68.
If a higher power-weight figure is required in the future, BRSL will be able to specify the larger Eagle 265 engine, which is quoted as an alternative power unit.
Foundation brakes are 15.5in. diameter, 6in. wide at the front and Rin. at the rear.
Automotive Products Antilok skid-sensing equipment is shown as a standard fitting, although BRSL is known to be evaluating the Dunlop Maxaret system as well as the Antilok and no definite choice on one type has been made to the exclusion of the other.
Burman cam and roller steering with power assistance as standard is fitted on the new machine. Slipper-ended rear springs are featured in a bid to improve ride.
Extensive prototype testing has already been carried out. The BRSL display board shows one of the new tractive units on test hauling a widespread tandem-axle platform trailer, the whole outfit in BRSL livery.