Thirty BRSL branches may close if 5 p.c. target not reached; general haulage is 'out'
12th March 1971
Page 12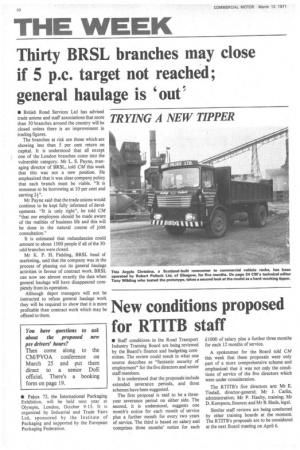 Page 12, 12th March 1971 —
Thirty BRSL branches may close if 5 p.c. target not reached; general haulage is 'out'
Close
• British Road Services Ltd has advised trade unions and staff associations that more than 30 branches around the country will be closed unless there is an improvement in trading figures.
The branches at risk are those which are showing less than 5 per cent return on capital. It is understood that all except one of the London branches come into the vulnerable category. Mr L. S. Payne, managing director of BRSL, told CM this week that this was not a new position. He emphasized that it was clear company policy that each branch. must be viable. "It is nonsense to be borrowing at 10 per cent and earning 24".
Mr Payne said that the trade unions would continue to be kept fully informed of developments. "It is only right", he told CM "that our employees should be made aware of the realities of business life and this will be done in the natural course of joint consultation."
It is estimated that redundancies could amount to about 1500 people if all of the 30odd branches were closed.
Mr K. P. H. Fielding, BRSL head of marketing, said that the company was in the process of phasing out its general haulage activities in favour of contract work. BRSL can now see almost exactly the date when general haulage will have disappeared completely from its operation.
Although depot managers will not be instructed to refuse general haulage work they will be required to show that it is more profitable than contract work which may be offered to them.
• Pakex 72, the International Packaging Exhibition, will be held next year at Olympia, London, October 9-13. It is organized by Industrial and Trade Fairs Ltd, sponsored by the Institute of Packaging and supported by the European Packaging Federation.