New conditions proposed for RTITB staff
12th March 1971
Page 12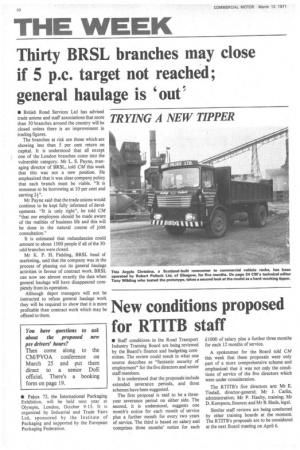 Page 12, 12th March 1971 —
New conditions proposed for RTITB staff
Close
• Staff conditions. in the Road Transport Industry Training Board are being reviewed by the Board's finance and budgeting committee. The review could result in what one source describes as "fantastic security of employment" for the five directors and senior staff members.
It is understood that the proposals include extended severance periods, and three schemes have been suggested.
The first proposal is said to be a threeyear severance period on either side. The second, it is understood, suggests one month's notice for each month of service plus a further month for every two years of service. The third is based on salary and comprises three months' notice for each £.1000 of salary plus a further three months for each 12 months of service.
A spokesman for the Board told CM this week that these proposals were only part of a more comprehensive scheme and emphasized that it was not only the conditions of service of the five directors which were under consideration.
The RTITB's five directors are: Mr E. Tindall, director-general; Mr J. Carlin, administration; Mr P. Haxby, training; Mr D. Kempson, finance; and Mr B. Slade, legal.
Similar staff reviews are being conducted by other training boards at the moment. The RTITB's proposals are to be considered at the next Board meeting on April 6.