Will fools rush in ?
12th March 1971
Page 11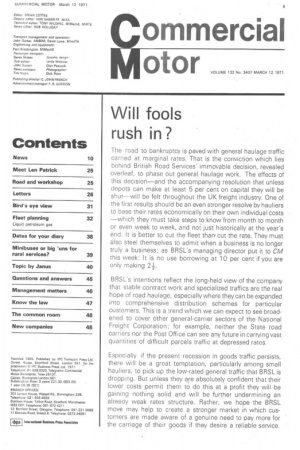 Page 11, 12th March 1971 —
Will fools rush in ?
Close
The road to bankruptcy is paved with general haulage traffic carried at marginal rates. That is the conviction which lies behind British Road Services' immovable decision, revealed overleaf, to phase out general haulage work. The effects of this decision—and the accompanying resolution that unless depots can make at least 5 per cent on capital they will be shut—will be felt throughout the UK freight industry. One of the first results should be an even stronger resolve by hauliers to base their rates economically on their own individual costs —which they must take steps to know from month to month or even week to week, and not just historically at the year's end. It is better to cut the fleet than. cut the rate. They must also steel themselves to admit when a business is no longer truly a business; as BRSL's managing director put it to CM this week: It is no use borrowing at 10 per cent if you are only making 2÷.
BRSL's intentions reflect the long-held view of the company that stable contract work and specialized traffics are the real hope of road haulage, especially where they can be expanded into comprehensive distribution schemes for particular customers. This is a trend which we can expect to see broadened to cover other general-carrier sectors of the National Freight Corporation; for example, neither the State road carriers nor the Post Office can see any future in carrying vast quantities of difficult parcels traffic at depressed rates: Especially if the present recession in goods traffic persists, there will be a great temptation, particularly among small hauliers, to pick up the low-rated general traffic that BRSL is dropping. But unless they are absolutely confident that their lower costs permit them to do this at a profit they will be gaining nothing solid and will be further undermining an already weak rates structure. Rather, we hope the BRSL move may help to create a stronger market in which customers are made aware of a genuine need to pay more for the carriage of their goods if they desire a reliable service.