Problems of the
9th September 1932
Page 69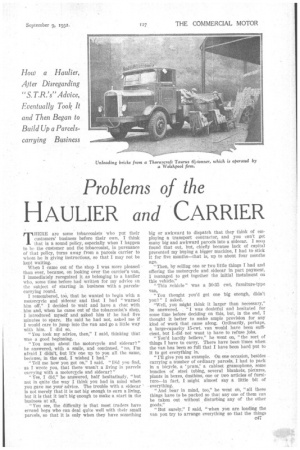 Page 70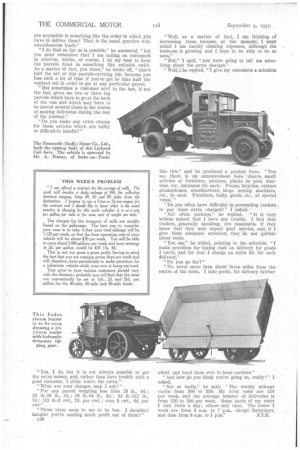 Page 69, 9th September 1932 —
Problems of the
Close
HAULIER and CARRIER THERE are some tobacconists who put their customers' business before their own, I think that is a sound policy, especially when I happen to be the customer and the tobacconist, in pursuance of that policy, turns away from a parcels carrier to whom he IS giving instructions, so that I may not be kept waiting.
When I came out of the shop I was more pleased than ever, because, on looking over the carrier's van, I immediately recognized it as belonging to a haulier who, some time before had written for my advice on the subject of starting in business with a parcels carrying round. , I remembered, too, that he wanted to begin with a motorcycle and sidecar and that I had "warned him off." I decided to wait and have a chat with him and, when he came out of the tobacconist's shop, I introduced myself and asked him if he had five minutes to spare. He said be had not, asked me if I would care to jump into the van and go a little way with him. I did so.
"You took my advice, then," I said, thinking that was a good beginning.
"You mean about the motorcycle and sidecar?" he answered, with a smile, and continued, "no, I'm afraid I didn't, but it's one up to you all the same; be&I use, in the end, I wished I had."
"Tell me how you got on," I said. "Did you find, as I wrote you, that there wasn't a living in parcels carrying with a motorcycle and sidecar?"
" Yes, I did," he answered, half hesitatingly, "hut not in quite•the way I think you had in mind when you gave me ppm advice. The trouble with a sidecar is not merely that it is not big enough to earn a living, but it is that it isn't big enough to make a start in the business at all.
"You see, the difficulty is that most traders have errand boys who can deal quite well with their small parcels, so that it is only when they have something big or awkward to dispatch that they think of employing a transport contractor, and you can't get many big and awkward parcels into a sidecar. I soon found that out, but, chiefly because lack of capita) prevented my buying a bigger machine, I had to stick it for five months—that is, up to about four months ago.
"Then, by selling one or two little things I had and offering the motorcycle and sidecar in part payment, I managed. to get together the initial instalment on this vehicle."
"This vehicle" was a 30-35 ewt, furniture-type van, • "You thought you'd get one big enough, didn't you?" I asked. "Well, you might think it larger than necessary,"
he answered. "I was doubtful and hesitated for some time before deciding on this, but, in the end, I thought it better to make ample provision for any kind of work that came along. Ordinarily, perhaps, a large-capacity 15-cwt. van would have been sufficient, but I. did not want to have to refuse jobs.
" You'd hardly believe," he went on, "the sort of things I have to carry. There have been times when the van has been so full that I have been hard put to it to get everything in.
" give you an example. On one occasion, besides carrying a number of ordinary parcels, I had to pack in a bicycle, a 'pram,' a cabinet gramophone, some bundles of steel tubing, several blankets, pictures, plants in bores, dustbins, one or two articles of furniture—in fact, I might almost say a little bit of everything. "And bear in mind, too," he went on, "all these things have to be packed so that any one of them can be taken out without disturbing any of the other goods."
"But surely," I said, "when you are loading the van you try to arrange everything so that the things 047 are accessible in something like the order in which you have to deliver them? That is the usual practice with miscellaneous loads."
"I do that so far as is possible," he answered, "but you must remember that I am calling on customers in rotation, whilst, of course, I do n3y hest to keep the parcels fixed in something like suitable order. As a matter of fact, you know," he broke off, "that's half the art of this parcels-carrying job, because you lose such a lot of time if you've got to take half the vanload out in order to get at any particular parcel. "But sometimes a customer next to the last, if not the last, gives me two or three big parcels which have to go at the back of the van and which may have to be moved several times in the course of making deliveries during the rest of the journey."
"Do you make any extra charge for these articles which are bulky or difficult,to handle?"
"Yes, I do, but it is not always possible to get the extra money, and, rather than have trouble with a good customer, I often waive the extra." "What are your charges, may I ask?"
"For any parcel weighing less than 28 lb. 4d.; 28 lb.-56 lb., 5d.; 56 lb.-84 lb., 6d.; 84 lb.-112 lb., 7d.; 112 lb.-3 cwt., 7d, per ewt.; over 3 cwt., 6d, per cwt."
"Those rates seem to me to be low. I shouldn't imagine you're making much profit out of them?" c48 "Well, as a matter of fact, I am thinking of increasing them, because, at the moment, I must admit I am hardly clearing expenses, although the business is growing and I hope to be able to do so soon."
"But," I said, "you were going to tell me something about the extra charges."
" WellA he replied, "I give my customers a schedule like this," and he produced a printed form. "You see there is an announcement here chairs, small articles of furniture, pictures, plants in pots, dustbins, etc., minimum 6d. each. Prams, bicycles, cabinet gramophones, wheelbarrows, large sewing machines, etc., is. each. Furniture, bulky goods, etc., at special rates.' " "Do you often have difficulty in persuading traders to pay these extra charges?" I asked.
"Not often perhaps," he replied. "It is very seldom indeed that I have any trouble. I find that traders, generally speaking, are reasonable if they know that they may expect good service, and, if I give them adequate attention, they do not quibble about rates.
"You see," he added, pointing to the schedule, "I make provision for taking cash on delivery for goods I carry, and for that I charge an extra 3d. for each delivery," "Do you go far?"
"No, never more than about three miles from the centre of the town. I take goods, for delivery farther afield, and hand them over to local carriers."
"And how .0o you think you're going on, really?" I asked.
"Not so badly," he said. "The' weekly mileage varies from 300 to 350. My total costs are £10 per week, and the average number of deliveries is from 150 to 200 per week. Some parts of my route I visit twice a day ; others only once. The hours I work are from 9 a.m. to 7 p.m., except Saturdays, and then from 8 am. to 1 p.m." S.T.R.