News Items in Brief
9th September 1932
Page 46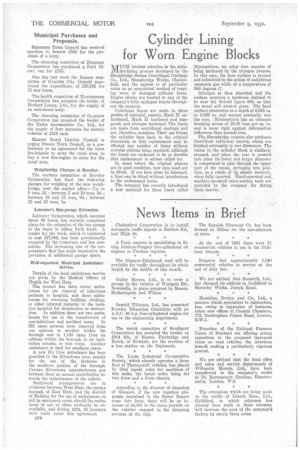 Page 46, 9th September 1932 —
News Items in Brief
Close
Chelmsford Corporation is to install automatic traffic signals in Beddow Rd., and High St.
A Paris concern is specializing in fitting Junkers-Peugeot two-cylindered oil engines to Pordson tractors.
The Glasgow-Edinburgh road will be available for traffic throughout its whole length by the middle of this month.
Galley Motors, Ltd., is to . erect a garage in the vicinity of Westgate Rd., Newcastle, to plans prepared by Messrs. Hetheringto'n and Wilson.
Oswald Tillotson, Ltd., bas presented Burnley Education Committee with an A.E.C. 40 h.p. four-cylindered engine for use in the engineering department.
The watch committee of Southport Corporation has accepted the tender, at 1914 10e., of Messrs. Fairbridge and Hatch, of Birkdale, for the erection of a bus station on the Esplanade.
The Leeds Industrial Co-operative Society, which already operates a large fleet of Thornycroft vehicles, has placed its 33rd repeat order for machines of this make, the latest order being for two 4-ton and a 3-ton chassis.
According to the director of cleansing of Glasgow, if the new taxation proposals contained in the Salter Report come into force, there will be an increase of £4,163 in the taxes payable on the vehicles engaged in the cleansing services of the city. The Spanish Firestone Co. has been formed at Bilbao for the manufacture of tyres.
At the end of 1931 there were 11 commercial vehicles in use in the Falkland Islands.
Bulgaria had approximately 1,340 commercial vehicles in service at the end of July last.
We are advised that Seesmith, Ltd., has changed its address in Guildford to Shrewley Works, Joseph Road.
Heseltine, Evelyn and Co. Ltd., a concern which specializes in lubrication, has, owing to expansion of business, taken new offices at Coastal Chambers, 172, Buckingham Palace Road, London, S.W.1.
Branches of the National Farmers Union of Scotland are offering strong opposition to the proposed increased taxes on road vehicles, the Aberdeen branch making a particularly vigorous protest.
We are advised that the head office and sales and service departments of Willmotts Motors, Ltd., have been transferred to the company's works at 50, Ravenscourt Gardens, Hammersmith, London, 1T.6.
The extensions which are being made to the works of Dennis Bros., Ltd., Guildford, to which reference has already been made in these columns, 'will increase the area of the company's factory by nearly three acres.