Municipal Purchases and Proposals.
9th September 1932
Page 46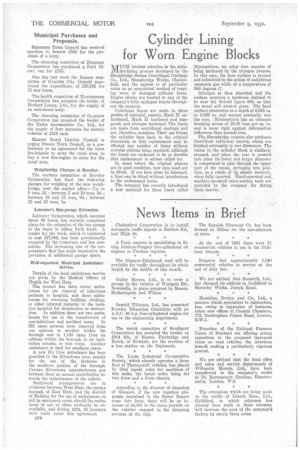 Page 46, 9th September 1932 —
Municipal Purchases and Proposals.
Close
SKEGNESS. Town Council has received sanction to borrow £350 for the purchase of a lorry.
The cleansing comnaittee of BURNLEY Corporation has purchased a Ford 10cwt, van for £155.
One slay last week the Finance committee of CARDIFF City Council sanctioned the expenditure of £20,162 for 15 new buses.
The health committee of 'MANCHESTER Corporation bus accepted the tender of Herbert Lomas, Ltd., for the supply of an ambulance body.
The cleansing committee of GLAscOw Corporation has accepted the tender of the Tudor Accumulator Co., Ltd., for the supply of four batteries for electric vehicles at £312 each.
BRECON Rural District Council is urging Brecon Town Council, as a preliminary to an agreement for the town fire-brigade to nerve the rural area, to buy a new fire-engine to cater for the rural area.
Weighbridge Charges at Burnley. The markets committee of Burnley Corporation has fixed the following charges for weighing at the new weigh
bridge, near the market office to 5 tons, 3d.; between Sand 10 tons, 6d.; between 10 and 15 tons, 9d. ; between 15 and 25 tons, is.
Leicester's Bus-garage Extension.
Leicester Corporation, which operates about 60 buses, has recently completed plans for the extension of the bus garage at the depot in Abbey Park Road. A tender for the work, which is estimated to coet £27,000, has been provisionally accepted by the tramways and bus committee. The increasing size of the corporation's fleet hsts made imperative the provision of additional garage space.
Weil-organized Municipal Ambulance Service.
Details of the local ambulance service are given by the Medical Officer of Health for West Ham.
• The eouncil has three motor ambulances for the removal of infectious patients to hospital, and three ambulances for removing bedding, clothing, or other infected material to the isolation hospital for disinfection or destruction. In addition there are two ambulances for use in the transference of
non-infectious and accident cases. In 051 cases persons were removed from one address to another within the borough and in 1,130 cases from an address within the borough to an institution outside, or vice versa. Another ambulance is used for smallpox cases.
A new Du Cros ambulance has been provided in the Silvertown area, mainly for the use of the factories in the southern portion of the borough. Certain Silvertown manufacturers pay between them an annual contribution towards the maintenance of the vehicle.
Reciprocal arrangements are in existence between West Ham, the county borough of East Ham, and the district of Barking for the use of ambulances on call in. emergency cases, should the ambulance of one or other authority be unavailable, and during 1931, 20 journeys were made under this agreement.
c24