Cylinder Lining for Worn Engine Blocks
9th September 1932
Page 46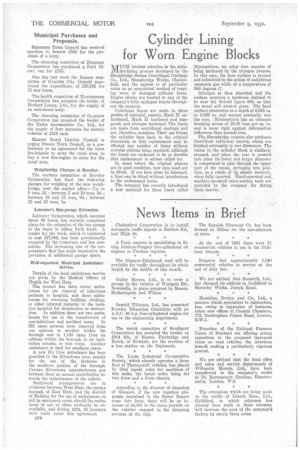 Page 46, 9th September 1932 —
Cylinder Lining for Worn Engine Blocks
Close
Ayr DOI interest attaches to the cylinALder-lining process developed by the Sheepbridge Stokes Centrifugal Castings Co., Ltd., Sheepbridge Works, Chesterfield, and the syptem is of particular value as an economical method of treating worn or damaged cylinder bores. Engine blocks are treated at any of the company's fully equipped depots throughout the country.
Centricast liners are made in three grades of matenial, namely, Mark II unhardened, Mark II hardened and tempered, and nitrogen hardened. The liners are made from centrifugal castings and are, therefore, seamless. Their use brings the cylinder bore back to the original dimension, so that replacement may be effected any number of times without oversize pistons being required, although the liners are reckoned to be so durable that replacement is seldom called for.
In cases where the original pistons are in good condition, new ones need net be fitted. If one bore alone be damaged, a liner can be fitted without interference to the undamaged bores.
The company has recently introduced a new material for these liners called Nitricastiroe, a alloy iron capable of being hardened by the nitrogen process. In this case the bore surface is ground and submitted to the action of anhydrous ammonia gas while at a temperature of 500 degrees C.
Nitrogen is thus absorbed and the surface acquires a hardness claimed to be over the Brinell figure 900, so that the metal will scratch glass. The hard surface penetrates to a depth of 0.015 in. to 0.020 in. and merges gradually into the core. Nitricastiron has an ultimate breaking stress of 25-30 tons per sq. in. and is more rigid against deformation influences than normal iron.
The Sheepbridge concern also produces Centrilock valve-seat inserts, which arc finished externally in two diameters. The recess in the cylinder block is similarly stepped, and when the seat is preteed into place its lower and larger diameter is compressed to pass through the upper part of the recess, springing into position, as a result of its elastic recovery, when fully inserted. Hand-operated and, machine-operated valve-seating tools are provided by the company for fitting these inserts.