Success of Power Harvesting.
9th September 1932
Page 44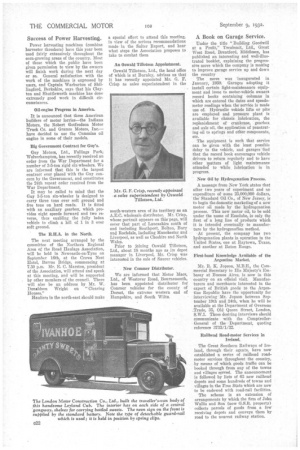 Page 44, 9th September 1932 —
Success of Power Harvesting.
Close
Power harvesting machines (combine harvester threshers) have this year been used fairly extensively throughout the corn-growing areas of the country. Most of those which the public have been given permission to view by the owners -will finish work during the next day or so. General satisfaction with the work of the machines is expressed by users, and Captain Warburton of Shillingford, Berkshire, says that his Clayton and Shuttleworth machine has done extremely good work in difficult circumstances.
Oil-engine Progress in America.
It is announced that three American builders of motor lorries—the Indiana Motors, the Robert Gotfredson Motor Truck Co. and Gramm Motors, Inc.— have decided to use the Cummins oil engine in some of their models.
Big Government Contract for Guy's.
Guy Motors, Ltd., Fallings Park, Wolverhampton, has recently received an order from the War Department for a number of 3-5-ton rigid six-wheelers. We are informed that this is the largest contract ever placed with the Guy concern by the Government, and constitutes the 24th repeat order received from the War Department.
It may be called to mind that the Guy 3-5-ton six-wheeler is designed to carry three tons over soft ground and five tons on hard roads. It is fitted with an auxiliary gearbox, which provides eight speeds forward and two reverse, thus enabling the fully laden vehicle to climb a hill of 1 in 3 over soft ground.
The R.H.A. in the North.
The next meeting arranged by the committee of the Northern Regional Area of the Road Haulage Association, will be held in Newcastle-on-Tyne on September 16th, at the Crows Nest Hotel, Barras Bridge, commencing at 7.30 p.m. Mr. E. C. Marston, president of the Association, will attend and speak at this meeting, and will be supported by other members of the council. There will also be an address by Mr. W. Donaldson Wright on "Clearing Houses."
Hauliers in the north-east should make a special effort to attend this meeting, in view of the serious recommendations made in the Salter Report, and hear what steps the Association proposes to take to combat them An Oswald Tillotson Appointment.
Oswald Tillotson, Ltd., the head office of which is at Burnley, advises us that it has recently appointed Mr. G. F. Crisp as sales superintendent in the
south-western area of its territory as an A.E.C. wholesale distributor. Mr. Crisp, whose portrait appears on this page, will cover that part of Lancashire sonth of and including Southport, Bolton, Bury and Rochdale, including Manchester and Liverpool, as well as Cheshire and North Wales.
Prior to joining Oswald Tillotson, Ltd., about 18 months ago as its depot manager in Liverpool, Mr. Crisp was interested in the sale of Saurer vehicles.
New Commer Distributor.
We are informed that Motor Macs, Ltd., of Westover Road, Bournemouth, has been appointed distributor for Commer vehicles for the county of Dorset, the extreme western end of Hampshire, and South Wilts.
September 9, 1932. A Book on Garage Service.
Under the title "Building Goodwill at a Profit," Tecalemit, Ltd., Great West Road, Breutford, Middlesex, has published an interesting and well-illustrated booklet, explaining the progressive move which the company is making to improve garage service up and down the country The move was inaugurated in January, 1930. Garages adopting it install certain light-maintenance equipment and issue to motor-vehicle owners record books containing columns in which are entered the dates and speedometer readings when the service is made use of. Hydraulic vehicle lifts or pits are employed and pressure plant is available for chassis lubrication, the replenishment of crankcase, gearbox and axle oil, the application of penetrating oil to springs and other components, etc.
The equipment is such that service can be given with the least possible delay to the vehicle, and garages 'find that the record book encourages vehicle drivers to return regularly and to have other matters of light maintenance attended to while lubrication is in progress.
New Oil by Hydrogenation Process.
A message from New York states that after two years of experiment and an expenditure of some 25,000,000 dollars, the Standard Oil Co., of New Jersey, is to begin the domestic marketing of a new motor oil made by the hydrogenation process. This new motor oil, to be sold under the name of Essolubc, is only the first of a long line of products which it is intended eventually to manufacture by the hydrogenation method.
At present, the company has two hydrogenation plants in operation in the United States, one at Raytown,. Texas, and another at Baton Rouge.
First-hand Knowledge Available of the Argentine Market.
Mr. R. K. Jopson, M.B.E., the Commercial Secretary to His Majesty's Embassy at Buenos Aires, is now in this country on an official visit. Manufacturers and merchants interested in the export of British goods to the Argentine Republic have the opportunity for interviewing Mr. Jopson between September 19th and 24th, when he will be available at the Department of Overseas Trade, 35, Old Queen Street, London, S.W.I. Those desiring interviews should communicate with the ComptrollerGeneral of the Department, quoting reference 3733/1/32.
Railhead Road-motor Services in Ireland.
The Great Southern Railways of Ireland, through their agents, have now established a series of railhead roadmotor services throughout the country, by means of which goods traffic can be booked through from any of the towns and villages served. The announcement is followed by lists of 63 new railhead depots and some hundreds of towns and villages in the Free State which are now to be endowed with road-rail facilities.
The scheme is an extension of arrangements by which the firm of John Wallis and Son (now G.S.R. property) collects parcels of goods from a few receiving depots and conveys them by road to the nearest railway station.