Unispeed on buying trail
9th October 1982
Page 7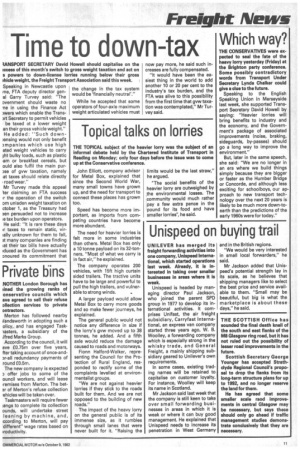 Page 7, 9th October 1982 —
Unispeed on buying trail
Close
UNILEVER has merged its freight forwarding activities into one company, Unispeed International, which started operations last week. Already, it is interested in taking over smaller businesses in areas where it is weak.
Unispeed is headed by managing director Paul Jackson, who joined the parent SPD group in 1977 to develop its international activities. It comprises Unifast, the air freight subsidiary, Carryfast International, an express van company started three years ago, W. B. Woolley, a forwarding company which is especially strong in the whisky trade, and General Freight, a mainly shipping subsidiary geared to Unilever's own requirements.
In some cases, existing trading names will be retained to capitalise on customer loyalty. For instance, Woolley will keep its name in Scotland.
Mr Jackson said last week that the company is still keen to take over small forwarding businesses in areas in which it is weak or where it can buy good management. He explained that Unispeed needs to increase its penetration in West Germany and in the British regions.
"We would be very interested in small local forwarders," he said.
Mr Jackson added that Unispeed's potential strength lay in its scale, as he believes that shipping managers like to select the best price and service available to them. "Small may be beautiful, but big is what the marketplace is about these days," he said.