Topical talks on lorries
9th October 1982
Page 7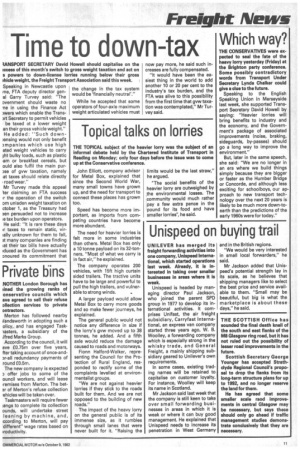 Page 7, 9th October 1982 —
Topical talks on lorries
Close
THE TOPICAL subject of the heavier lorry was the subject of an informal debate held by the Chartered Institute of Transport in Reading on Monday; only four days before the issue was to come up at the Conservative conference.
John Elliott, company advisor for Metal Box, explained that since the Second World War, many small towns have grown up, and the need for transport to connect these places has grown too.
Speed has become more important, as imports from competing countries have become more abundant.
The need for heavier lorries is felt more in some industries than others. Metal Box has only a 10 tonne payload on its 32-tonners. "Most of what we carry is in fact air," he explained.
The company operates 200 vehicles, with 15ft high curtain sided trailers. The tractive units have to be large and powerful to pull the high trailers, and vulnerable to strong winds.
A larger payload would allow Metal Box to carry more goods and so make fewer journeys, he explained.
The general public would not notice any difference in size if the lorry's gvw moved up to 38 tonnes, he added. And a fifth axle would reduce the damage caused to roads and motorways.
Fionn Halford-Walker, representing the Council for the Protection of Rural England, responded to rectify some of the complaints levelled at environmentalist groups.
"We are not against heavier lorries if they stick to the roads built for them. And we are not opposed to the building of new roads."
The impact of the heavy lorry on the general public is of its immense size, as it rumbles through small lanes that were never built for it. "Raising the limits would be the last straw," he argued.
"The social benefits of the heavier lorry are outweighed by rthe environmental losses. The !community would much rather !pay a few extra pence in the pound for its food and have smaller lorries", he said.