Karrier here to stay ,
9th October 1982
Page 62
Page 63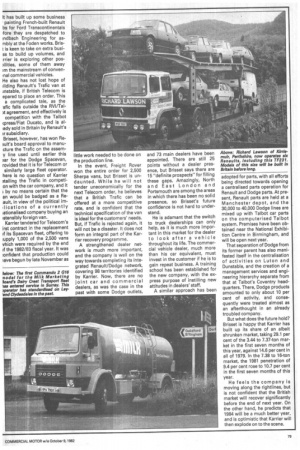 Page 62, 9th October 1982 —
Karrier here to stay ,
Close
Keywords :
Rootes
,
Road Transport
,
Car Manufacturers
,
Manufacturing
,
Karrier
,
Chrysler
,
Renault Trucks
,
Commer
,
Dodge
,
Renault
,
Talbot
,
Rootes Group
,
Business / Finance
and nobody's pigeor
In 20 years, Laurence Brisset expects the company of which he is chairman and md to be as much part of the industry as Ford today. He explains why to Alan Millar
THE TRAFFIC sign on the main road from Luton to Dunstable says "Talbot" on it, but the road leads to the headquarters of Karrier Motors, the fourth post-war name for the manufacturer of former Rootes commercials in Britain. The latest effective owner is Renault Vehicules Industriels, and a Frenchman, Laurent Brisset, has been chairman and managing director of Karrier since June 1981.
Brisset insists that Renault is here to stay, and wants to believe that in 20 years from now, the company will be as much part of the British industrial scene as Ford is today. He does not know what the company will build then, but is determined to convince his employees at Dunstable and Luton, and his customers, that Karrier will be a potent force.
Karrier is owned 50/50 by RVI and Talbot, the latter having owned the enterprise after the PSA (Peugeot/Citroen) group took over Chrysler's European manufacturing activities in 1978. PSA was, and probably always will be, a car manufacturing specialist, and had earlier sold the Berliet (ex Citroen) company to Renault. Other potential partners — notably DAF — were ap
proached before the eventual deal was struck with RVI, taking the sale and manufacture of commercials over 3.5 tonnes out of the hands of PSA and into a company which specialises in this activity.
PSA still has a half-share in Karrier and Hispavinsa, its Spanish counterpart, but the company is managed by Renault and almost certainly will be owned wholly by RVI before long.
Brisset's approach since taking charge of the company has been to develop the Karrier assets to their full potential. That could have resulted in a classic protection of RVI's substantial French resources, and the rapid elimination of the British Dodge operation as European markets contracted. Indeed the Talbot approach to the car range, with the closure of the Linwood plant and the demotion of the onetime Rootes heartland in Coventry to an assembly operation for French-designed cars offered a gloomy prospect for the future.
Certainly, Brisset is alive to the scale economies which Karrier can derive from being part of RVI, but he says there was never any question of the company being used as a bridgehead for RVI to gain a greater share of the British market. Instead the Commando 2, the re-engineered 100Series medium-weight model, was launched last year and is already replacing other models from the company's armoury.
It is available only with a Perkins diesel engine, and Brisset insists that there is no question of this being diluted in any way. In other words, Renault engines will not be offered, and what is more, the Commando is so important to Karrier that the company will stop selling Rena u It's J-Series models in Britain by the middle of next year.
A 24-ton 6x4 Commando will be exhibited at the Motor Show later this month, and goes int production at the end of nex year. This is the first multi wheeled British Dodge fo around 10 years, and offers realistic alternative to Renaul 24-tonners which are built fc operation at 26 tonnes on th French market, and suffer conse quently from being over-engi neered.
This model helps fill a gap lel by Karrier's decision to ceast importing 300-Series Dodge! from Spain. Brisset admits the the 300, especially as a rigid, i! not ideally suited to British re quirements, and it is clear tha the Spanish and British corn panies will follow separate path: in the future. Long drawn-ou negotiations between FtVI ant the Spanish government onh ended this summer, after th( new owner was able to prow that it intended Hispavinsa to re main an independent manufac turer and not merely a means a dumping Renault lorries on tc the Spanish market.
Already, Karrier has begun tc sell Renault's heavier model; through its British dealer net work, and a major step toward: improving penetration of the 16. ton-and-over market will bE made in 1984 when heavier Renaults start to be built at Dun. stable. These will be sold ir Britain as Renaults, as the DodgE name can only be used for thE models inherited from Talbot, but Brissent stresses that they are an extension of activities al Dunstable, and should create more employment there.
At present, the plant has capacity for building around 60 vehicles a day on a single shift, but only makes 30. It envisages the Renault vehicles adding about five vehicles a day to that figure, and for that to double eventually. It has built up some business painting French-built Renault bs for Ford Transcontinentals fore they are despatched to indbach Engineering for as-nbly at the Foden works. Brist is keen to take on extra busiss to build up volumes, and rrier is exploring other posoilities, some of them away om the mainstream of conven[nal commercial vehicles.
He also has not lost hope of iilding Renault's Trafic van at instable, if British Telecom is epared to place an order. This a complicated tale, as the afic falls outside the RVI/Talyt agreement, and effectively is competition with the Talbot (press/Fiat Ducat°, and is alody sold in Britain by Renault's ir subsidiary.
Brisset, however, has won Relull's board approval to manucture the Trafic on the assemy line used until earlier this ?ar for the Dodge Spacevan, rovided that it is for Telecom or similarly large fleet operator. here is no question of Karrier 3tailing the Trafic in competion with the car company, and it by no means certain that the an would be badged as a Reault, in view of the political irnI icati ons of a currently lationalised company buying an
■ stensibly foreign van.
Karrier tendered for Telecom's irst contract in the replacement 4 its Spacevan fleet, offering to ,upply 1,000 of the 2,500 vans vhich were required by the end of the 1982/83 fiscal year. It was :onfident that production could lave begun by late November as little work needed to be done on the production line.
In the event, Freight Rover won the entire order for 2,500 Sherpa vans, but Brisset is undaunted. While he will not tender uneconomically for the next Telecom order, he believes that a British Trafic can be offered at a more competitive rate, and is confident that the technical specification of the van is ideal for the customers' needs. But, if Trafic is rejected again, it will not be a disaster. It does not form an integral part of the Karrier recovery programme.
A strengthened dealer network is much more important, and the company is well on the way towards completing its integrated Renault/Dodge network, covering 98 territories identified by Karrier. Now, there are no joint car and commercial dealers, as was the case in the past with some Dodge outlets, and 73 main dealers have been appointed. There are still 25 points without a dealer presence, but Brisset says there are 15 "definite prospects" for filling these gaps. Amazingly, North and East London and Portsmouth are among the areas in which there has been no solid presence, so Brisset's future confidence is not hard to understand.
He is adamant that the switch to truck dealerships can only help, as it is much more important in this market for the dealer to look after a vehicle throughout its life. The commercial vehicle dealer, much more than his car equivalent, must invest in the customer if he is to gain repeat business. A training school has been established for the new company, with the express purpose of instilling new attitudes in dealers' staff.
A similar approach has been adopted for parts, with all efforts being directed towards opening a centralised parts operation for Renault and Dodge parts. At present, Renault parts are held at a Manchester depot, and the 30,000 to 40,000 Dodge lines are mixed up with Talbot car parts on the computerised Talbot system. Premises have been obtained near the National Exhibition Centre in Birmingham, and will be open next year.
That separation of Dodge from its former parent has also manifested itself in the centralisation of activities on Luton and Dunstable, and the creation of a management services and engineering hierarchy separate from that at Talbot's Coventry headquarters. There, Dodge products amounted to only about 10 per cent of activity, and consequently were treated almost as an afterthought in an already troubled company.
But what does the future hold? Brisset is happy that Karrier has built up its share of an albeit shrunken market, taking 29.1 per cent of the 3.44 to 7.37-ton market in the first seven months of this year, against 14.6 per cent in all of 1979. In the 7.38 to 16-ton market, the 1981 penetration of 9.4 per cent rose to 10.7 per cent in the first seven months of this year.
He feels the company is moving along the rightlines, but is not confident that the British market will recover significantly before the end of next year. On the other hand, he predicts that 1984 will be a much better year, and is optimistic that Karrier will then explode on to the scene.