Steyr power to boost market share
9th October 1982
Page 56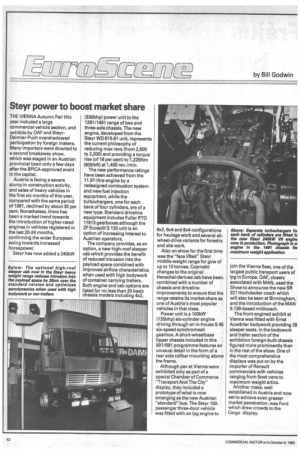 Page 56, 9th October 1982 —
Steyr power to boost market share
Close
by Bill Godwin
THE VIENNA Autumn Fair this year included a large commercial vehicle section, and exhibits by OAF and SteyrDaimler-Puch overshadowed participation by foreign makers. Many importers were diverted to a second breakaway show, which was staged in an Austrian provincial town only a few days after the BPICA-approved event in the capital.
Austria is facing a severe slump in construction activity, and sales of heavy vehicles in the first six months of this year, compared with the same period of 1981, declined by about 30 per cent. Nonetheless, there has been a marked trend towards the introduction of higher-rated engines in vehicles registered in the last 20-24 months, confirming the wider European swing towards increased horsepower.
Steyr has now added a 240kW (330bhp) power unit to the 1291/1491 range of two and three-axle chassis. The new engine, developed from the Steyr WD 815.61 unit, represents the current philosophy of reducing max revs (from 2,600 to 2,200) and providing a torque rise (of 18 per cent) to 1,225Nm (905Ibft) at 1,400 rev./min.
The new performance ratings have been achieved from the 11.97-litre engine by a redesigned combustion system and new fuel injection equipment, while the turbochargers, one for each bank of four cylinders, are of a new type. Standard driveline equipment includes Fuller RTO 11613 gearboxes although the ZF Ecosplit S 130 unit is an option of increasing interest to Austrian operators.
The company provides, as an option, a new high-roof sleeper cab which provides the benefit of reduced intrusion into the payload space combined with improved airflow characteristics when used with high bodywork of container carrying trailers. Both engine and cab options are listed for no less than 20 basic chassis models including 4x2, 6x2, 6x4 and 8x4 configurations for haulage work and several allwheel-drive variants for forestry and site work.
Also on show for the first time was the "face lifted" Steyr middle-weight range for gvw of up to 10 tonnes. Cosmetic changes to the original Henschel-derived cab have been combined with a number of chassis and driveline improvements to ensure that the range retains its market share as one of Austria's most popular vehicles in that class.
Power unit is a 100kW (135bhp) six-cylinder engine driving through an in-house S 45 six-speed synchromesh
gearbox. A short-wheelbase tipper chassis included in this 591/691 programme features an unusual detail in the form of a rear axle rollbar mounting above the frame.
Although psv at Vienna were exhibited only as part of a special Chamber of Commerce "Transport And The City" display, they included a prototype of what is now emerging as the new Austrian "standard" bus. The Steyr 100passenger three-door vehicle was fitted with an lpg engine to
join the Vienna fleet, one of the largest public transport users of lpg in Europe. OAF, closely associated with MAN, used the Show to announce the new SR 321 Hochdecker coach which will also be seen at Birmingham, and the introduction of the MAN 9.136-based midicoach.
The front-engined exhibit at Vienna was fitted with Ernst Auwarter bodywork providing 28 sleeper seats. In the bodywork and trailer section of the exhibition foreign-built chassis figured more prominently than in the rest of the show. One of the most comprehensive displays was put on by the importer of Renault commercials with vehicles ranging from 5cwt vans to maximum weight artics.
Another make, well established in Austria and now set to achieve even greater market penetration, was Ford which drew crowds to the Cargo display.