Clunk click time
9th October 1982
Page 5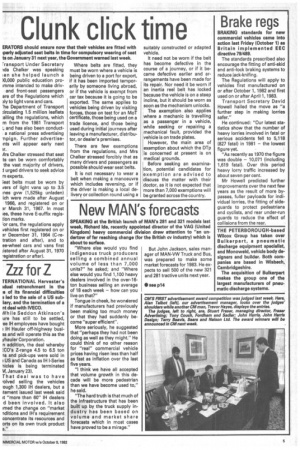 Page 5, 9th October 1982 —
Clunk click time
Close
ERATORS should ensure now that their vehicles are fitted with perly adjusted seat belts In time for compulsory wearing of seat ts on January 31 next year, the Government warned last week.
Transport Under Secretary Ida Chalker was speaking en she helped launch a 10,000 public education promme intended to make drivand front-seat passengers are of the Regulations which )Iy to light vans and cars.
'he Department of Transport Arculating 1.5 million leaflets ailing the regulations, which m from the 1981 Transport I, and has also been conducta national press advertising Tipign. Further advertisents will appear early next
Ir.
Ars Chalker stressed that seat ts can be worn comfortably the vast majority of drivers, I urged drivers to seek advice m experts.
;eat belts must be worn by vers of light vans up to 3.5 Ines gvw 11,525kg unladen) ich were made after August 1966, and registered on or March 31, 1967. In most las, these have E-suffix regisLion marks.
'or cars, the regulations apply vehicles first registered on or 3r December 31, 1964 (C-retration and after), and to ee-wheel cars and vans first [istered after August 31, 1970 vgistration or after).
Where belts are fitted, they must be worn where a vehicle is being driven to a port for export, if it has been imported temporarily by someone living abroad, or if the vehicle is exempt from car tax because it is going to be exported. The same applies to vehicles being driven by visiting forces, those on test for an MoT certificate, those being used on a trade licence, and those being used during initial journeys after leaving a manufacturer, distributor, or dealer's premises.
There are few exemptions from the regulations, and Mrs Chalker stressed forcibly that as many drivers and passengers as possible should wear seat belts.
It is not necessary to wear a belt when making a manoeuvre which includes reversing, or if the driver is making a local de livery or collection round using a suitably constructed or adapted vehicle.
It need not be worn if the belt has become defective in the course of a journey, or if it became defective earlier and arrangements have been made for its repair. Nor need it be worn if Ian inertia reel belt has locked 'because the vehicle is on a steep incline, but it should be worn as soon as the mechanism unlocks.
The exemption also applies ;where a mechanic is travelling as a passenger in a vehicle, while seeking or repairing a mechanical fault, provided the vehicle is on trade plates.
However, the main area of exemption about which the DTp is concerned at present is on medical grounds.
Before seeking an examination, potential candidates for exemption are advised to discuss the matter with their doctor, as it is not expected that more than 7,000 exemptions will be granted across the country.