'Ideal' unit for Cummins
9th October 1982
Page 49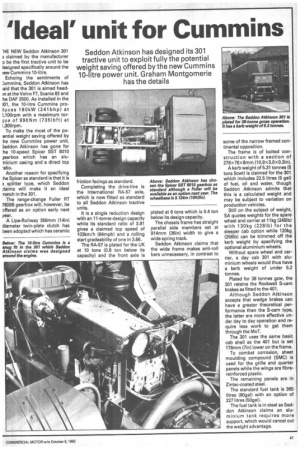 Page 49, 9th October 1982 —
'Ideal' unit for Cummins
Close
Seddon Atkinson has designed its 301 tractive unit to exploit fully the potential weight saving offered by the new Cummins 10-litre power unit. Graham Montgomerie has the details
'HE NEW Seddon Atkinson 301 3 claimed by the manufacturer o be the first tractive unit to be lesigned specifically around the iew Cummins 10-litre.
Echoing the sentiments of ;ummins, Seddon Atkinson has aid that the 301 is aimed head ■ ri at the Volvo F7, Scania 82 and he OAF 2500. As installed in the 101, the 10-litre Cummins proluces 1 8 0 kW (2 4 1bhp) at 4100rpm with a maximum toriue of 996Nm (7 3 5Ibft) at 1,30Orpm.
To make the most of the poential weight saving offered by he new Cummins power unit, 3eddon Atkinson has gone for he 10-speed Spicer SST 8010 )earbox which has an alurinium casing and a direct top atio.
Another reason for specifying :he Spicer as standard is that it is 3 splitter type, which Seddon .laims will make it an ideal ratch in the 301.
The range-change Fuller RT 7609B gearbox will, however, be affered as an option early next year.
A Lipe-Rollway 356mm (14in) diameter twin-plate clutch has been adopted which has ceramic friction facings as standard.
Completing the drive-line is the International RA-57 axle, which is now fitted as standard to all Seddon Atkinson tractive units.
It is a single reduction design with an 11-tonne design capacity while its standard ratio of 3.91 gives a claimed top speed of 103km/h (64mph) and a rolling start gradeability of one in 3.66.
The RA-57 is plated for the UK at 10 tons (0.8 ton below its capacity) and the front axle is plated at 6 tons which is 0.4 ton below its design capacity.
The chassis frame has straight parallel side members set at 914mm (36in) width to give a wide spring track.
Seddon Atkinson claims that the wide frame makes anti-roll bars unnecessary, in contrast to some of the narrow framed continental opposition.
The frame is of bolted construction with a section of 276x76x8mm (10.9x3.0x0.3in).
A kerb weight of 5.31 tonnes (5 tons 5cwt) is claimed for the 301 which includes 22.5 litres (5 gal) of fuel, oil and water, though Seddon Atkinson admits that this is a calculated weight and may be subject to variation on production vehicles.
Still on the subject of weight, SA quotes weights for the spare wheel and carrier at 11kg (2451b) with 130kg (2281b) for the sleeper cab option while 120kg (2561b) can be trimmed off the kerb weight by specifying the optional aluminium wheels.
Without spare wheel and carrier, a day cab 301 with aluminium wheels would thus have a kerb weight of under 5.2 tonnes.
Plated for 38 tonnes gcw, the 301 retains the Rockwell S-cam brakes as fitted to the 401.
Although Seddon Atkinson accepts that wedge brakes can have a greater theoretical performance then the S-cam type, the latter are more effective under day to day operation and require less work to get them through the MoT.
The 301 uses the same basic cab shell as the 401 but is set 178mm (7in) lower on the frame.
To combat corrosion, sheet moulding compound (SMC) is used for the grille and quarter panels while the wings are fibrereinforced plastic.
The remaining panels are in Zintec-coated steel.
The standard fuel tank is 365 litres (80gal) with an option of 227 litres (50gal).
The fuel tank is in steel as Seddon Atkinson claims an aluminium tank requires more support, which would cancel out the weight advantage.