Coachmen's holidays run better by DAFs
9th October 1982
Page 47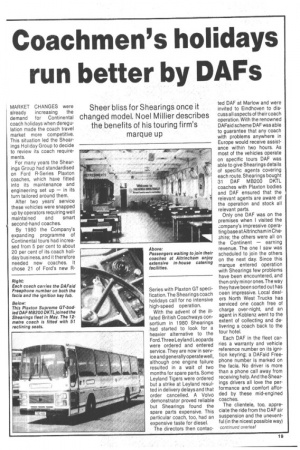 Page 48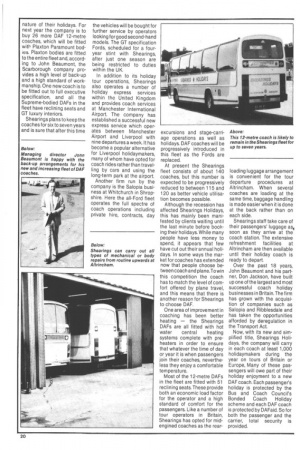 Page 47, 9th October 1982 —
Coachmen's holidays run better by DAFs
Close
Sheer bliss for Shearings once it changed model. Noel Millier describes the benefits of his touring firm's marque up
MARKET CHANGES were already increasing the demand for Continental coach holidays when deregulation made the coach travel market more competitive. This situation led the Shearings Holiday Group to decide to review its coach requirements.
For many years the Shearings Group had standardised on Ford IR-Series Plaxton coaches, which have fitted into its maintenance and engineering set up — in its turn tailored around them.
After two years' service these vehicles were snapped up by operators requiring well maintained and smart second-hand coaches.
By 1980 the Company's expanding programme of Continental tours had increased from 5 per cent to about 20 per cent of its coach holiday business, and it therefore needed new coaches. It chose 21 of Ford's new R Series with Plaxton GT specification. The Shearings coach holidays call for no intensive high-speed operation.
With the advent of the illfated British Coachways consortium In 1980 Shearings had started to look for a heavier alternative to the Ford. Three Leyland Leopards were ordered and entered service. They are now in service and generally operatewell, although one engine failure resulted in a wait of two months for spare parts. Some Leyland Tigers were ordered but a strike at Leyland resulted in delivery delays and that order cancelled. A Volvo demonstrator proved reliable but Shearings found the spare parts expensive. This particular coach, too, had an expensive taste for diesel.
The directors then contac ted DAF at Marlow and were invited to Eindhoven to discuss all aspects of theircoach operation. With the renowned DAFaid scheme DAF was able to guarantee that any coach with problems anywhere in Europe would receive assistance within two hours. As most of the vehicles operate on specific tours DAF was able to give Shearings details of specific agents covering each route. Shearings bought 31 DAF MB200 DKTL coaches with Plaxton bodies and DAF ensured that the relevant agents are aware of the operation and stock all relevant parts.
Only one DAF was on the premises when I visited the company's impressive operating base atAltrincham in Cheshire; the others were all on the Continent — earning revenue. The one I saw was scheduled to join the others on the next day. Since this marque entered operation with Shearings few problems have been encountered, and then only minor ones. The way they have been sorted out has oeen impressive. Local dealers North West Trucks has serviced one coach free of charge over-night, and an agent in Koblenz went to the extent of collecting and delivering a coach back to the tour hotel.
Each DAF in the fleet carries a warranty and vehicle reference number on its ignition keyring; a DAFaid Freephone number is marked on the facia. No driver is more than a phone call away from receiving help. And the Shearings drivers all love the performance and comfort afforded by these mid-engined coaches.
The clientele, too, appreciate the ride from the DAF air suspension and the uneventful (in the nicest possible way) nature of their holidays. For next year the company is to buy 26 more DAF 12-metre coaches, which will be fitted with Plaxton Paramount bodies. Plaxton bodies are fitted to the entire fleet and, according to John Beaumont, the Scarborough company provides a high level of back-up and a high standard of workmanship. One new coach is to be fitted out to full executive specification, and all the Supreme-bodied DAFs in the fleet have reclining seats and GT luxury interiors.
Shearings plans to keep the coaches for six to seven years and is sure that after this time the vehicles will be bought for further service by operators looking f or good second-hand models. The GT specification Fords, scheduled for a fouryear stint with Shearings, after just one season are being restricted to duties within the UK.
In addition to its holiday tour operations, Shearings also operates a number of holiday express services within the United Kingdom and provides coach services at Manchester International Airport. The company has established a successful new express service which operates between Manchester Airport and Liverpool with nine departures a week. It has become a popular alternative for Liverpool holidaymakers, many of whom have opted for coach rides rather than travelling by cars and using the long-term park at the airport.
Another firm run by the company is the Salopia business at Whitchurch in Shropshire. Here the all-Ford fleet Operates the full spectre Of coach operations including private hire, contracts, day excursions and stage-carriage operations as well as holidays. DAF coaches will be progressively introduced in this fleet as the Fords are replaced.
At present the Shearings fleet consists of about 140 coaches, but this number is expected to be progressively reduced to between 115 and 120 as better vehicle utilisation becomes possible.
Although the recession has affected Shearings Holidays, this has mainly been manifested by clients waiting until the last minute before booking their holidays. While many people have less money to spend, it appears that few have cut out their annual holidays. In some ways the market for coaches has extended now that people choose between coach and plane.To win this competition the coach has to match the level of comfort offered by plane travel, and this means that there is another reason for Shearings to choose DAF.
One area of improvement in coaching has been better heating — the Shearings DAFs are all fitted with hot water central heating systems complete with preheaters in order to ensure that whatever the time of day or year it is when passengers join their coaches, nevertheless they enjoy a comfortable temperature.
Most of the 12-metre DAFs in the fleet are fitted with 51 reclining seats. These provide both an economic load factor for the operator and a high standard of comfort for the passengers. Like a number of tour operators in Britain, Shearings has opted for midengined coaches as the rear loading luggage arrangement is convenient for the tour departure procedures at Altrincham. When several coaches are loading at the same time, baggage handling is made easier when it is done at the back rather than on each side.
Snearings staff take care of their passengers luggage as soon as they arrive at the coach station. The extensive refreshment facilities at Altrincham are then available until their holiday coach is ready to depart.
Over the past 18 years, John Beaumont and his partner, Don Jackson, have built up one of the largest and most successful coach holiday businesses in Britain. The firm has grown with the acquisition of companies such as Salopia and Ribblesdale and has taken the opportunities afforded by deregulation in the Transport Act.
Now, with its new and simplified title, Shearings Holidays, the company will carry in each coach at least 1,000 holidaymakers during the year on tours of Britain or Europe. Many of these passengers will owe part of their holiday enjoyment to a new DAF coach. Each passengers holiday is protected by the Bus and Coach Council's Bonded Coach Holiday scheme and each DAF coach is protected by DAFaid. So for both the passenger and the carrier, total security is provided.