Action areas 'a sop'
9th October 1982
Page 4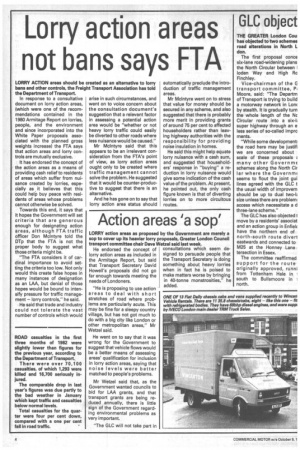 Page 4, 9th October 1982 —
Action areas 'a sop'
Close
LORRY action areas as proposed by the Government are merely a sop to cover up its heavier lorry proposals, Greater London Council transport committee chair Dave Wetzel said last week.
He endorsed the concept of lorry action areas as included in • the Armitage Report, but said that Transport Secretary David Howell's proposals did not go far enough towards meeting the needs of Londoners.
"He is proposing to use action areas to deal with short stretches of road where problems are particularly acute. This may be fine for a sleepy country village, but has not got much to do with a big city like London or other metropolitan areas," Mr Wetzel said.
He went on to say that it was wrong for the Government to suggest that vehicle flows would be a better means of assessing areas' qualification for inclusion in lorry action areas, saying that noise levels were better matched to people's problems.
Mr Wetzel said that, as the Government wanted councils to bid for LAA grants, and that transport grants are being reduced annually, there is little sign of the Government regarding environmental problems as very important.
"The GLC will not take part in consultations which seem designed to persuade people that the Transport Secretary is doing something about heavy lorries when in fact he is poised to make matters worse by bringing in 40-tonne monstrosities," he added.