Eindhoven plans a confident future
9th October 1982
Page 31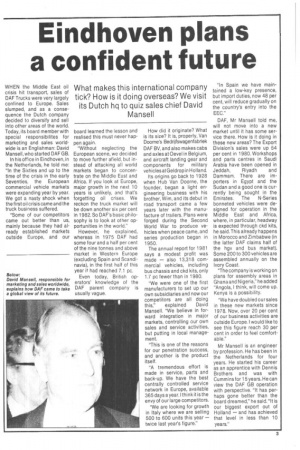 Page 31, 9th October 1982 —
Eindhoven plans a confident future
Close
What makes this international company tick? How is it doing overseas? We visit its Dutch hq to quiz sales chief David Mansell
WHEN the Middle East oil crisis hit transport, sales of DAF Trucks were very largely confined to Europe. Sales slumped, and as a consequence the Dutch company decided to diversify and sell into other areas of the world. Today, its board member with special responsibilites for marketing and sales worldwide is an Englishman: David Mansell, who started DAF GB.
In his office in Eindhoven, in the Netherlands, he told me: "In the Sixties and up to the time of the crisis in the early Seventies, the European commercial vehicle markets were expanding year by year. We got a nasty shock when the first oil crisis came and the truck business suffered.
"Some of our competitors came out better than us, mainly because they had already established markets outside Europe, and our board learned the lesson and realised this must never happen again.
"Without neglecting the European scene, we decided to move further afield, but instead of attacking all world markets began to concentrate on the Middle East and Africa. If you look at Europe, major growth in the next 10 years is unlikely, and that's forgetting oil crises. We reckon the truck market will be down another six per cent in 1982. So DAF's basic philosophy is to look at other opportunities in the world."
However, he explained, whereas in 1975 DAF had some four and a half per cent of the nine tonnes and above market in Western Europe (excluding Spain and Scandinavia), in the first half of this year it had reached 7.1 pc.
Even today, British operators' knowledge of the DAF parent company is usually vague. How did it originate? What is its size? It is, properly, Van Doorne's Bedrijfswagenfabriek DAF BV, and also makes cabs and axles at Oevel in Belgium, and aircraft landing gear and components for military vehicles atGeldrop in Holland.
Its origins go back to 1928 when Hub Van Doorne, the founder, began a light engineering business with his brother, Wim, and its debut in road transport came a few years later with the manufacture of trailers. Plans were forged during the Second World War to produce vehicles when peace came, and series production began in 1950.
The annual report for 1981 says a modest profit was made — also 13,318 commercial vehicles, including bus chassis and ckd kits, only 1.7 pc fewer than in 1980.
"We were one of the first manufacturers to set up our own subsidiaries and now our competitors are all doing this," explained David Mansell. "We believe in forward integration in major markets, controlling our own sales and service activities, but putting in local management.
"This is one of the reasons for our penetration success, and another is the product itself.
"A tremendous effort is made in service, parts and back-up. We have the best centrally controlled service network in Europe, available 365 days a year. I think it is the envy of our large competitors.
"We are looking for growth in Italy where we are selling 500 to 600 units this year — twice last year's figure." "In Spain we have maintained a low-key presence, but import duties, now 48 per cent, will reduce gradually on the country's entry into the EEC."
DAF, Mr Mansell told me, will not move into a new market until it has some service there. How is it doing in these new areas? The Export Division's sales were up 54 per cent in 1980. Workshops and parts centres in Saudi Arabia have been opened in Jeddah, Riyadh and Dammam. There are importers in Egypt and the Sudan and a good one is currently being sought in the Emirates. The N-Series bonneted vehicles were designed for operation in the Middle East and Africa, where, in particular, headway is expected through ckd kits, he said. This already happens in Morocco and Zimbabwe (in the latter DAF claims half of the hgv and bus market). Some 200 to 300 vehicles are assembled annually on the Ivory Coast.
"The company is working on plans for assembly areas in Ghana and Nigeria," he added "Angola, I think, will come up. Kenya is a possibility.
"We have doubled our sales in these new markets since 1978. Now, over 20 per cent of our business activities are outside Europe. I would like to see this figure reach 30 per cent in order to feel comfortable."
Mr Mansell is an engineer by profession. He has been in the Netherlands for four years. He started his career as an apprentice with Dennis Brothers and was with Cu mmins for 15 years. He can view the DAF GB operation with perspective. "It has perhaps gone better than the board dreamed," he said. "It is our biggest export out of Holland — and has achieved that level in less than 10 years."