Esso on the brink
9th October 1982
Page 3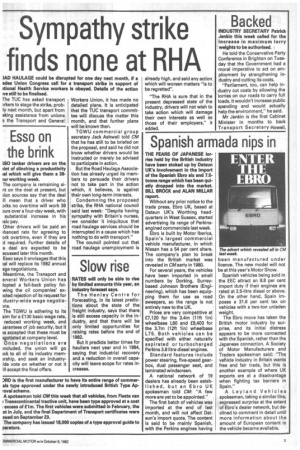 Page 3, 9th October 1982 —
Esso on the brink
Close
MO tanker drivers are on the )int of clinching a productivity mil which will give them a 38our working week.
The company is remaining slit on the deal at present, but 'ion sources say that the deal II mean that a driver who arks no overtime will work 38 rurs over a four-day week, with substantial increase in his isic pay.
Other drivers will be paid an ihanced rate for agreeing to ork overtime, even if they are )t required. Further details of e deal are expected to be scussed later this month.
Esso says it envisages that this ral will replace its 1982 annual age negotiations.
Meantime, the Transport and eneral Workers Union has lopted a fall-back policy folwing the oil companies' exmted rejection of its request for dustry-wide wage negotiaans.
The TGWU is adhering to its aim for a £130 basic wage rate, reduced working week, and Jarantees of job security, but it is accepted that these must be 3gotiated at company level.
Once negotiations are rncluded, the union will go ]ck to all of its industry memwship, and seek an industryide vote on whether or not it ill accept the final offers.