Scammell's 826 heavy duty famil
9th October 1982
Page 14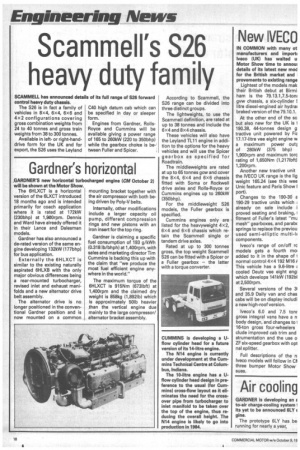 Page 14, 9th October 1982 —
Scammell's 826 heavy duty famil
Close
of its full range of S26 forward The S26 is in fact a family of vehicles in 8x4, 6x4, 6x 6 and 4 x 2 configurations covering gross combination weights from 24 to 40 tonnes and gross train weights from 38 to 300 tonnes.
Available in leftor right-handdrive form for the UK and for export, the S26 uses the Leyland C40 high datum cab which can be specified in day or sleeper form.
Engines from Gardner, RollsRoyce and Cummins will be available giving a power range of 165 to 260kW (220 to 350bhp) while the gearbox choke is between Fuller and Spicer. According to Scammell, the 526 range can be divided into three distinct groups.
The lightweights, to use the Scammell definition, are rated at up to 38 tonnes and include the 6x4 and 8x4 chassis.
These vehicles will also have the Leyland TL11 engine in addition to the options for the heavy vehicles and will use the Spicer gearbox as specified for Roadtrain.
The middleweights are rated at up to 65 tonnes gcw and cover the 8x4, 6.x4 and 6x6 chassis fitted with Soma or Rockwell drive axles and Rolls-Royce or Cummins engines up to 260kW (350bhp).
For the middleweight S26 models, the Fuller gearbox is specified.
Cummins engines only are listed for the heavyweight 4x2, 6x4 and 6x6 chassis which retain the Scammell single or tandem drive axles.
Rated at up to 300 tonnes gross, the top weight Scammell S26 can be fitted with a Spicer or a Fuller gearbox — the latter with a torque converter.