New IVECO
9th October 1982
Page 14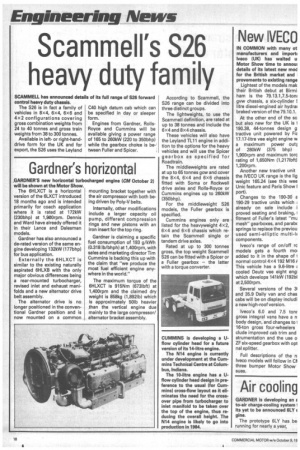 Page 14, 9th October 1982 —
New IVECO
Close
IN COMMON with many ot manufacturers and importi New (UK) has waited u Motor Show time to annoui details of its latest new mod for the British market and i provem ants to existing range Lightest of the models mak their British debut at Birmi ham is the 79.13.1,7.5-toni gvw chassis, a six-cylinder ! litre diesel-engined air hydra( braked version of the 79.10.1.
At the other end of the sc. but also new for the UK is 1 190,38, 44-tonnes design g tractive unit powered by FIE 17.17-litre vee eight engine w a maximum power outi of 280kW (375 bhp) 1,900rpm and maximum torq rating of 1,650Nm (1,217Ibft) 1,20Orpm.
Another new tractive unit the IVECO UK range is the fig weight 165.24 (see this wee Unic feature and Paris Show I port).
Changes to the 190-30 a 190-29 tractive units which already on sale include i proved seating and braking, 1 fitment of Fuller's latest "mu mesh" gearboxes, and parabc springs to replace the previou used semi-elliptic multi-k components.
Iveco's range of on/off no models gets a fourth mol added to it in the shape of 1 normal control 4x4 192 M16 I This vehicle has a 9.6-litre cooled Deutz vee eight engi which develops 141kW (192b1 at 2,500rpm.
Several versions of the 31 and 35.9 Daily van and chas cabs will be on display includi a new high-roof version.
lveco's 6,0 and 7.5 tonr gross integral vans have a n body design, and changes to I 16-ton gross four-wheelers dude improved cab trim and strumentation and the use o ZF six-speed gearbox with opt nal splitter.
Full descriptions of the n lveco models will follow in Cl three bumper Motor Show sues.